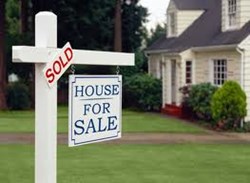 The spring is a popular time for homeowners to put their house on the market, ensure your home is ready after reading these simple tips from industry experts.
Baltimore, Maryland (PRWEB) February 10, 2014
Undoubtedly, the U.S. real estate market has seen a tremendous boom recently, and that's expected to continue for the foreseeable future. Homeowners who had previously been cautious about selling a home are now preparing to enter the market, and the spring is often considered the prime time for real estate.
While home improvement projects may be the last thing homeowners want to do during the frosty winter months, most real estate professionals advise homeowners to get these things out of the way prior to the start of spring, in order to be well-prepared to enter the market.
SecuritySystemReviews.com, a home security system review site, has put together a list of tips for homeowners to tackle this winter.
1. De-cluttering is one of the easiest, least expensive and most important things to do before putting a home for sale. Buyers are extremely turned off by clutter—it makes a space look smaller, and it's difficult to see the actual home. Take the dull winter months as an opportunity to de-clutter and organize a home and it will have a big impact on buyers.
2. Clean and repair flooring. Whether it's having the carpet professionally cleaned, or repairing damaged hardwoods, this is important and will change how buyers see a home. It's an inexpensive fix that goes a long way in impressing buyers and improving the value of a home.
3. Deodorize the home. Cleaning the carpets will help, but take any necessary steps to ensure that a home smells fresh and clean—odors like those from pets or foods are a turn-off to buyers and can instantly have them heading for the door.
4. The high-end buyer is in full force right now, so make changes that give a home a more luxurious feel. Consider investing in one of the best home security systems, or a home automation system. Even DIY security systems will go a long way in impressing buyers. Other high-end changes could include adding a glass tile backsplash to the kitchen, or a stone shower surround. Seller will enjoy a significant return on investment by taking on these small improvement projects.
5. Have a licensed property inspector do a thorough check of a home. Any signs of damage or disrepair can mean a buyer goes elsewhere, or has leverage to negotiate a lower price on a home. Be proactive in fixing potential problems.
About SecuritySystemReviews.com
From Maryland security systems, to Montana security systems, Security System Reviews is the nation's top provider of third-party, independent information about the home security and alarm industry. The site offers reviews and rankings of companies and equipment on a state-by-state basis, as well as coupons and discount codes.