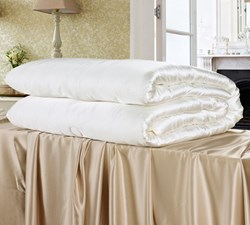 But we seldom launch promotions on these duvets, because they are luxurious and worthwhile.
Boston, MA (PRWEB) January 24, 2014
Lilysilk bedding store, a reliable supplier of silk bedding wares, has excitedly introduced its high quality spring silk comforters and duvets to customers at home and abroad. People do not like heavy duvets in Spring. In order to help people avoid feeling heavy at night, the company has decreased the weights of their duvets and comforters.
With delicately designed patterns on the surface, these comforters and duvets are all well manufactured with premium quality silk floss materials, and they are available at competitive prices. Lilysilk comforters are hand made only using mulberry silk filling, which is piled layer by layer in a criss-cross pattern. They utilize unique skills to tack the filling to the hem, so that customers never have to worry about bunching, cold spots or shakedown in the morning.
ICEO Mike Lee, a faithful and responsible man said, "We inspect each step of manufacturing procedure carefully, to ensure the qualities of our comforters and duvets. But we seldom launch promotions on these duvets, because they are luxurious and worthwhile. And I bet most customers prefer to spend a little more to enjoy the ultimate comfort of 100% mulberry silk comforters, don't you?"
Besides, the company launches promotions on their silk bedding sets with 10% off discount available. If customers have any questions about their products and promotions, they can ask for help by sending emails or consult operators on online live help.
Lilysilk specializes in the manufacture and retail of high end silk bedding wares, and is also offering silk pajamas for men and women with stylish designs and exquisite craftsmanship. They vary in colors and sizes. All customers can browse through their website to purchase top quality silk sheets and pajamas at competitive prices.
More information about Lilysilk products and promotions can visit here: http://www.lilysilk.com/