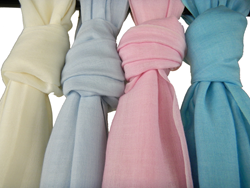 Selecting one or two of the currently fashionable colors of pashminas is a cost-effective method to get extra mileage out of your Spring wardrobe
Houston, TX (PRWEB) March 19, 2016
The Pashmina Store, http://www.thepashminastore.com, one of the largest online retailers of cashmere pashminas at value prices, today announced a special discount with the arrival of Spring. The "Spring Fever" cashmere savings event makes it easy for fashionistas to update their wardrobes by adding the beautiful colors found in Spring 2016's hottest hues. Through April 4, 2016, online shoppers can take advantage of the 10% discount on the following pashminas, along with everything else in the store, by entering the special coupon code "SPRING" during checkout.
"Selecting one or two of the currently fashionable colors of pashminas is a cost-effective method to get extra mileage out of your Spring wardrobe," said Blair Rhodes, co-owner of The Pashmina Store. "Our color selections are right on trend with Pantone's Spring 2016 Top Colors, although we name them differently."

Seriously Lively: Energize and enliven the senses with a brightly hued, lightweight cashmere pashmina shawl or wrap in lovely Yellow or Lime Green.
Soothing Blues: Stay cool, calm and collected with the softness of a silk & cashmere blend wrap or shawl in Blue Atoll, Moroccan Blue or Light Blue.
Peachy Pink Passion: Show off a touch of the Caribbean with a striking Coral pashmina.
Remarkable Reds: Earthy reds are the name of the game this spring. Be inspired with the colors Firebrick and Earth Red.
Natural Neutrals: Balance brightness with beautiful off-white Natural or sultry Silver Grey Pashmina Water Stoles.
About The Pashmina Store
Since 2001, The Pashmina Store has been proud to offer the finest quality pure pashmina and pashmina/silk blend shawls, wraps, scarves and cashmere blankets. Customers enjoy the entire experience with quality products at exceptional values, free standard shipping in the U.S from Texas, and a satisfaction guarantee. We make it convenient to purchase online by accepting all major credit cards, PayPal and Amazon Payments.