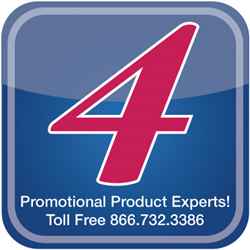 Centerbrook, CT (PRWEB) March 21, 2014
Spring is here! That means it's time to do some spring-cleaning and freshen up inventories and get some new inspiration for warm weather promotions and sales. 4AllPromos has tons of promotional and custom imprinted products for the spring season.
Warm weather invites customers to get active, go outdoors and even start shopping for items like apparel, sports bottles, sunglasses, beach towels and more outdoor items. Promotional products from 4AllPromos are affordable and make the perfect giveaway for a spring grand-opening, festival or special event such as Prom or graduation. Our Lowest Price Guarantee even ensures customers will receive items at the same or lower price than other competitors.
"Customers are always looking for fresh, new and fun ideas for giveaways and promotional products in the spring," said 4AllPromos President, Cosmo Corigliano.
Looking for new and different custom imprinted products for giveaways or gifts for special customers? 4AllPromos offers custom engraving on many items. Personalize a product with a customer's name or mark a special event with a special engraving. Customers will appreciate that special touch on a quality product that can be used again and again. Engrave a gym bag, sports bottle, pens, picture frames, apparel and more.
Invigorate customers with promotional products that inspire healthy living like a custom imprinted sports bottle, pedometer, salad container, ear buds, gym towel or apparel. Fitness giveaways are being touted as some of the most popular promotional products of 2014. These healthy items make great giveaways at road races, trade shows, health fairs and fitness competitions.
4AllPromos is a leading online marketing of promotional and custom imprinted products including apparel, drinkware, gourmet candies and snacks, tote bags, office supplies and more. For more information about4AllPromos visit http://www.4allpromos.com or call 1-866-732-3386 toll free to speak to a product specialist.