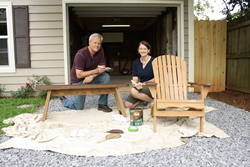 There's no faster or easier way to freshen up a surface than with a new coat of paint.
Mobile, Ala. (PRWEB) March 31, 2016
With temperatures on the rise, there's never been a more ideal time to break out the paintbrushes and dropcloths for some spring spruce-ups around the home. Host of Today's Homeowner, Danny Lipford, shares his top picks for outdoor painting projects sure to add curb appeal and make any home inviting.
"With spring in the air, families are heading outdoors to enjoy the milder weather and break out of the winter doldrums," says Lipford. "It's the perfect time to look around the exterior of your home at some of the areas that could use a little pick-me-up, and there's no faster or easier way to freshen up a surface than with a new coat of paint." Below are Lipford's top picks for both traditional and out-of-the-box painting projects that can be completed in a weekend, and are sure to make an impact:

Concrete (porch, sidewalk)
Adding a stain or decorative paint finish is a great way to enhance a front porch or outdoor patio area. (video tutorial)
The finish on exterior light fixtures can become worn and weathered over time. Lipford recommends adding a fresh coat of spray paint to make them look like new. (video tutorial)

Outdoor furniture, pots & planters
Whether it's wooden, iron or plastic, Lipford says there's a stain or paint that can transform any piece to make a front porch the most inviting one on the block. (detailed how-to instructions)

Fresh shutters make any home look polished. Lipford's step-by-step breakdown on cleaning, primer and paint choice is available here.
According to Lipford, just about anything can be painted if it is properly prepared – the secret is ensuring a clean surface free from dirt, grease or rust. Once the area is clean, Lipford suggests using sandpaper, or a wire brush if working with metal, to remove any flaking paint. Taking these steps will allow the paint to better adhere to the surface. Lipford cautions painting enthusiasts not to skip the prep work. "While many homeowners are anxious to grab a brush or roller for that first coat, they need to understand that taking the time to plan and prepare will go a long way in producing a quality finish for any painting project," he says.
About Danny Lipford and Today's Homeowner
For over 25 years, Danny Lipford has offered homeowners credible, step-by-step advice through his various media platforms, including his nationally syndicated, Emmy-nominated TV show Today's Homeowner with Danny Lipford, his Today's Homeowner radio show, destination website, and active social channels. He has made more than 160 national television appearances on shows such as FOX & Friends, FOX Business Channel, Rachael Ray, CNN's Your Bottom Line, CBS's The Early Show and This Morning. Lipford has been the home improvement expert for The Weather Channel for over a decade, a longtime contributor to Better Homes & Gardens Magazine and BHG.com, and is a source for hundreds of other popular magazines and websites each year. To learn more about Danny Lipford and his Today's Homeowner Media Brand, contact Stephanie Greenwood, Public Relations Manager, at (251) 478-3345 x110 or stephanie(at)dannylipford(dot)com.