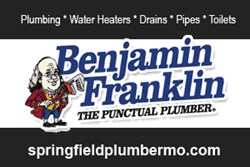 Springfield, MO (PRWEB) November 26, 2013
Need an affordable plumber in Springfield Missouri for a clogged drain? Benjamin Franklin Plumbing just launched a limited time drain cleaning special offer. Instead of the normal $248, the professional drain cleaning services is being offered at only $76. Any drain in the house is eligible with the exception of the main sewer line. Clogged bathroom tubs and showers, kitchen or utility room sinks are all part of the offer.
Benjamin Franklin Plumbing of Springfield MO regularly publishes new specials, coupons and promotions. Typically the current offers are posted on the company's home page. To claim any of the offers, customers should visit the website and download the relevant coupon. Some restrictions do apply and the coupons typically cannot be combined with other offers. Customers should mention the coupon and confirm eligibility when calling to set a service appointment.
Promotional offers are updated seasonally and in response to demand. In the past, Springfield's Benjamin Franklin Plumbing has offered $25 discounts valid on any plumbing repair, $69 off 'stand-by' type appointments, $400 rebates on new water heaters and low monthly payments on tankless water heater installations. Current promotions are available at http://www.springfieldplumbermo.com/promotions.
About Benjamin Franklin Plumbing of Springfield
Benjamin Franklin Plumbing is a full service plumbing company serving Springfield, Missouri and surrounding areas. The company provides plumbing repairs, service checks, installations and many other services to residential customers. All technicians are paid by the job, not by the hour and the company offers a straightforward written pricing guide to avoid surprises and misunderstandings.
Springfield's Benjamin Franklin Plumbing is locally owned, but as part of an established national brand, the company is able to offer exceptional service, repair and on-time guarantees.
Emergency plumber services available. Call 24 hours a day to reach a top-quality professional.
Contact:
Benjamin Franklin Plumbing of Springfield
springfieldplumbermo.com
(417) 823-8400