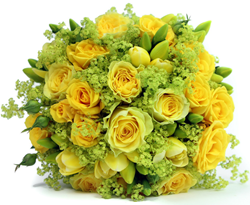 (PRWEB UK) 16 April 2014
Spring is finally here at London florists and flower delivery shops, bringing with it an abundance of new blooms, from daffodils to tulips. These flower varieties are one of the first flowers of Spring on Flowers24hours flower delivery website.
Tulip flowers make beautiful spring bouquets for any occasion. London florist and online flower shop Flowers24hours has a nice range available, from beautiful hand-tied flower bouquets to stunning vase arrangements. Tulips come in a number of bright colours so all of their spring flower arrangements come bursting with colour. Opt for a simple bouquet of tulips like pretty Flora design, or go for one which mixes other spring flowers, like the white roses in their Dolce Vita flower arrangement. To add something extra, opt for Flowers24hours's Spring Delight floral design which comes with a cute little teddy bear and a bath set. All floral designs from this London florist and flower delivery service are available for same day and next day flower delivery.
Each coloured tulip has a different meaning. Red tulips represent love and romance; yellow tulips represent a sunshine smile and cheery thoughts; cream tulips represent eternal love; white tulips represent purity and new beginnings; pink tulips represent the care and compassion; purple tulips represent royalty; orange represents passion and vigour; and tulips that have variegated petals are also thought to represent beautiful eyes. Pink tulips make a good choice for a romantic occasion, while white flowers are a lovely option for weddings and christenings. So, if thinking of sending a tulip flower bouquet online, why not send a bunch in the colour that is the best choice for a particular occasion.
Daffodils (Narcissus) represent new beginnings and have a strong association with spring and Easter. In addition to this, daffodils also mean good fortune. Not only do these flowers have positive meanings, but they look pretty too. Their beautiful shades of yellow are sure to brighten up anyone's day. Flower delivery shop Flowers24hours have several options for customers who are looking to buy daffodils as a gift, including their Bright New Spring - Narcissus which comes complete with lots of minute daffodils in a cute wicker basket, the pretty-looking Spring Narcissus flower arrangement that comes in a silver plant pot, and Spring Memories plant which is presented in a lovely blue pot. Daffodils really are the true flowers for spring.
For flower delivery in the United Kingdom or even same day flower delivery in London, Flowers24Hours's expert floral designers with over 15 years' experience are committed to delivering the quality flower arrangements and floral decorations. The online florist and gift shop also has high quality standards and only selects freshly cut flowers for spring floral designs from their network of trusted suppliers and local flower markets.
For more information on range of spring flowers for online delivery or to see what other flowers and gifts they offer, take a look around the Flowers24Hours website.