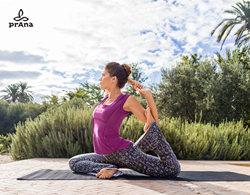 We were inspired by "off the beaten path", foreign travel, and the elevated fascination with other cultures, foreign landscapes, and age-old merchant trading hubs
Carlsbad, CA (PRWEB) January 28, 2015
In prAna's Spring 2015 collection, rich colors and distinctive textures combine to create a visual feast.
"We were inspired by "off the beaten path", foreign travel, and the elevated fascination with other cultures, foreign landscapes, and age-old merchant trading hubs," said Ellen Krimmel, prAna's VP of design and merchandising. "You'll see the influence of these inspirations in our product line through use of textured effects in fabrics, unique prints and patterns, and vibrant but soothing use of color."
You'll see the collision of ideas and cultures in the new Jett Capri. Made from organic cotton, these pants feature an ombre effect that leads the eye down to a zipper detail at the cuff. The Effie Top, also made entirely of organic cotton, is a stylish look for the free spirited traveler. Its eyelet-lace upper half—featuring buttons down the center—meets an India-inspired print over a modern, tiered design on the bottom. Delicate lace trim completes the look.
For men, the stylish blend of timeless quality with a modern cut meet in the Theorem Jeans. Pair with the Lukas Slim shirt, made with 100% organic cotton, and add intrigue to your foreign affairs.
"Our Spring '15 line is inspired by remote destinations, unique geography and the intentional collision and combination of textiles, techniques and found treasures," said Jeff Haack, prAna's creative director. "Traveling to Morocco for the Spring photoshoot gave us a chance to surround ourselves in a culture full of tradition and visual depth, the perfect backdrop for our Spring 2015 line."
The Spring 2015 collection is a modern mosaic that includes textiles and techniques found lining the narrow streets of Marrakesh, but also from the rocks, minerals and natural formations that make up the world's vast desert landscapes. See the entire line in your prAna catalog or by shopping online. To learn more, please visit prAna.com.
About prAna
PrAna is a lifestyle brand that draws its name from the ancient Sanskrit word for breath, life and vitality of the spirit. Born from climbing and yoga, the prAna team creates mindfully designed, purposeful and stylish apparel for free-spirited people to pursue their passions on the water, mat, rock, trail, and street. From its beginning in 1993, prAna has been committed to weaving sustainable practices into its operations and supply chain, working to reduce its impact on soils, water supplies and other natural resources while promoting conservation. PrAna is also conscious of its impact on communities and has worked to include a growing number of fair trade styles every year. It is the first major apparel company in North America to offer Fair Trade USA certified products and accessories. PrAna is sold in five flagship stores, online at prana.com, and in 1,400 specialty retailers across the US, Canada, Europe and Asia.
For a list of prAna retailers, please visit prana.com/dealer-locator.html
Find @prAna on Facebook, Twitter and Instagram