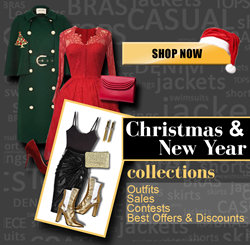 Huge discounts, offers and an party outfit to be won!
Wilmington, Delaware (PRWEB) December 13, 2016
There's no better time to update women's wardrobe with sleek pieces and cute outfits than during the month of December. The holiday season affords a prime opportunity for those with a penchant for fashion, and a particular interest in sassy, funny, Christmas-themed clothing, to acquire pieces that will help them create a lifetime of joyous holiday memories.
Sprint Shopping, the leading online one-stop fashion virtual marketplace, has welcomed the 2016 holiday season with the launch of impressive outfit collections as well as huge discounts.
To make the new year all the more special, all these offers are topped with an contest, which gives customers a chance to win a fabulous party dress for women worth $299.
Thousands of unique website visitors who turn to Sprint Shopping for outfit inspiration and styling ideas on a daily basis, will now be greeted by a Christmas-themed website, which, once the homepage loads, welcomes each Sprint Shopping enthusiast to the notes of Silent Night.
Behind the falling, virtual snowflakes lies the banner that invites visitors to check out Sprint Shopping's amazing Christmas Collection. Carefully curated by Sprint Shopping's expert staff, the 2016 Christmas Collection features the trendiest pieces for shoppers who want to celebrate the season and ring in the New Year while being ahead of the style curve.
From the timeless, Christmas-themed sweater look that is a must for family holiday pictures, to the more modern, meme-and-internet slang-inspired knitwear, which feature playful quotes knitted in the most fun patterns, there's a fashionable, Sprint Shopping-picked option awaiting for each shopper to discover. Upon that, the contest that allows customers to win an exotic party outfit is just an icing on the cake.
In keeping with Sprint Shopping's refined aesthetics and inclusive style approach, this year's holiday collection also features an array of items which are characterized by timeless elegance. These pieces are certain to transcend the current holiday season and be worn during many more in the future, by those who wish to create their signature festive wardrobe.
In the spirit of the season, Sprint Shopping wants to give back to its leagues of dedicated visitors, through offering one-of-a-kind offers and exceptional sales, which will help them get every item on their wish list, at affordable price points.
Whether customers are planning to shop for loved ones or would want to treat yourself with a well-deserved gift, to wrap up the end of the year, Sprint Shopping shoppers will now be able to find a present for each one of their intended recipients.
Hosting an elite selection of high-end luxury brands, as well as numerous other affordable brands, there is no shortage of fashionable options available at Sprint Shopping. Above all, there is a contest that lets customers win a stunning new party dress to jazz up and welcome the new year.
This year, customers can find coats, tops, dresses, and pants in festive colors, such as green, red, white, trendy metallic hues, and, of course, in the all-time classic shades of blue, gray and black. Shoe fiends can relish in a select range of footwear, available in popular styles, such as peep toes, strappy heels, sleek flats, and more, to find a new pair of shoes to match their brand new festive outfits.
To top off any special occasion get up, Sprint Shopping boasts an array of sparkly, diamond, crystal or cubic zirconia jewelry, which can also double as a surprise engagement or anniversary present, making the 2016 holiday season an unforgettable one for every lucky recipient.
Currently, running a fall season sale on women's clothing & fashion, where customers can find their favorite items at up to 70% off on their original price, Sprint Shopping has hinted at surprise discounts, flash sales, exclusive promotions, and contests, which will be launched, sporadically, during the days leading up to Christmas and throughout the holiday season too.
As new items are picked out and showcased on Sprint Shopping's front page by the website's veteran style editors, customers can stay up-to-date for fashion information & Style ideas. Customers can now register to Sprint Shopping's newsletter, to be instantly notified with any upcoming promotional event.