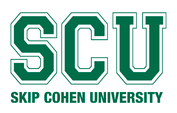 Joining forces, SCU and Sprouting Photographer are raising the bar in education.
Sarasota, FL (PRWEB) September 18, 2014
The Internet has completely revolutionized education and working together, Skip Cohen University and Sprouting Photographer are setting the bar for quality podcasts even higher. Sprouting Photographer's new feature, "Weekend Wisdom with Skip Cohen," a collaborative effort between the two blogs' founders, brings together the expertise of a special guest artist in each episode and then for thirty minutes, stays focused on one very specific topic.
The first episode aired on September 6 and featured "Sky Crystals" author, Don Komarechka, talking about the key challenges of self-publishing. Komarechka was completely open about topics like crowd-funding, editing, printing, and customer service, just to name a few. What made the episode so unique was the exclusive focus on the self-publishing.
"I'm excited to be working with Sprouting Photographer and anticipate more projects in the future. The blog may be relatively new, but has the same focus as SCU, helping photographers build a stronger business," commented SCU founder, Skip Cohen.
Sprouting Photographer has set some unusually high standards for reach. It's number one in Google stats - for the search term "photography business education", on the first page in Google for "photography business podcast" and on the 1st page in iTunes for "Business Management" and "Marketing and Management" podcasts under the "What's Hot" section. Listeners can subscribe by going to http://www.SproutingPhotographer.com/iTunes or searching "Sprouting Photographer" in iTunes. Alternatively, folks can listen to the episode right on the website.
SCU was listed in Guy Kawasaki's Alltop category of top photography sites just a few months after launch, was recognized in the top four favorite photo blogs along with Sprouting Photographer by Resource Magazine and Skip Cohen was listed recently in the top 100 most influential photographers by Eyefi.com.
For the moment a new episode of "Weekend Wisdom" is scheduled to air every other weekend, but based on the industry buzz from just one episode, it's anticipated that will soon change.
"We've only known each other for a short time, but I've been following Skip for a few years now. Great projects like this are the result of terrific chemistry and our two blogs reflect the passion we each have for helping more photographers," said Bryan Caporicci, founder of Sprouting Photographer.
Sandy Puc is Skip's guest on the next upcoming episode scheduled to air on September 20. For the latest in business and marketing support, check out SkipCohenUniversity and SproutingPhotographer.
About Skip Cohen University
SCU has been developed by Marketing Essentials International, founded in 2009 by Skip Cohen. The company provides consulting and educational support to the photographic industry at large. The SCU Blog and website is the home to hundreds of videos, podcasts, posts, webinars and guest posts, all focused on helping photographers build a stronger business model.
The faculty includes many of photography's finest artists and is constantly growing. The partners in the project are as impressive as the faculty and include Panasonic's LUMIX group, Profoto USA, Tamron USA, Photodex, Breathing Color Inc., X-rite Photo, Benro and MeFoto Tripods, Resource Magazine, Vulture Equipment Works and Adobe.
About Sprouting Photographer
Based on a foundation of "Learn, Listen and Grow," Sprouting Photographer launched at the beginning of this year. The blog's goal is to develop tools and resources to help photographers grow, spring up and develop as stronger professionals. The "face" of Sprouting Photographer is a team with CEO and founder, Bryan Caporicci and content creator, Robert Nowell. Both artists bring a considerable amount of expertise in marketing, business and Internet reach to the industry..
For more information visit SkipCohenUniversity.com, contact Skip Cohen directly at skip(at)mei500(dot)com, visit SproutingPhotographer.com or contact Bryan Caporicci directly at bryan(at)bcapphoto(dot)com.