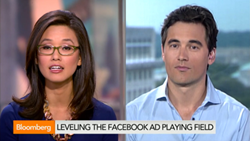 We are seeing on average, our clients having what we call a return on ad spend around 5x
Falls Church, Virginia (PRWEB) September 08, 2014
Rob Jewell, Founder and CEO of SpruceMail, was featured on Bloomberg Television's "In The Loop." The segment focused on several topics, including why small businesses should advertise on Facebook and some of the challenges they face. Jewell's company, SpruceMail, helps companies increase sales from their existing customers, website visitors, and new prospects by reaching them on their Facebook newsfeed.
One of the main barriers for small businesses is that they do not know how to implement a profitable Facebook advertising strategy out of the gate. Businesses have been forced to either outsource to an agency or to hire an in-house resource, both of which are often cost prohibitive. SpruceMail has worked to address this problem, using their 7+ year experience in the Facebook ad industry to incorporate a profitable ad strategy into their cloud-based software and making it so simple that small businesses can now successfully advertise on Facebook in-house, no experience required.
Betty Liu mentioned several concerns for businesses, including online ad fraud and the rising costs associated with online advertising. She asked what type of impact these issues can have on businesses investing more budget to advertise online. Rob noted that Facebook and Google have dedicated teams working diligently to preventing ad fraud and to preserve the integrity of their ad platforms. As for rising advertising rates, Jewell explained that although rates on Facebook have been trending up over time, it's directly related to the fact that more businesses are seeing increased results and response rates. "We are seeing on average, our clients having what we call a return on ad spend around 5x," Jewell added. "As long as returns maintain at these levels, companies will continue to invest in promoting their products or service on Facebook."
SpruceMail is an automated advertising platform that helps companies increase sales from new prospects, website visitors, and existing customers by reaching them on Facebook. SpruceMail's software works in tandem with company's existing email service providers to help keep the most recent and relevant content in front of customers and new prospects. SpruceMail attempts to reach customers who are no longer reading emails and are instead spending their time on Facebook.