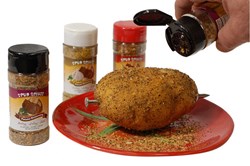 I wanted to take it to the next level and make them GMO-free to help reach our goal of becoming the healthiest seasoning on the market.
Spokane, WA (PRWEB) December 04, 2013
The best method for cooking and seasoning baked potatoes is now on Kickstarter, thanks to the Spud Spikes Baked Potato System. The system includes food-grade stainless steel potato nails that cut cooking time by up to 50% and unique seasoning rubs that add irresistible flavor and texture to potatoes and other foods. The campaign, with just twelve days remaining, has raised more than half of the money needed to manufacture the potato spikes, update packaging, and develop new seasonings that are GMO-Free.
Spud Spikes currently offers three unique seasoning blends, Original Blend, Pepper, and Garlic, that are full of flavor, and add zest to potatoes and more. Not only do the seasonings have bold flavors, they can also be a part of eating right. Every seasoning is iodine-, fat-, and gluten-free and only uses quality ingredients. When the Kickstarter campaign is funded, Spud Spikes intends to make all their seasonings GMO free, meaning they will not contain any genetically modified organisms. This new recipe will exclude such ingredients that could be potentially harmful to the human body and the environment.
"Our Spikes Spikes seasonings already don't contain any MSG (monosodium glutamate), preservatives, artificial flavors or colors," states Leon Frechette, creator of Spud Spikes. "Still, I wanted to take it to the next level and make them GMO-free to help reach our goal of becoming the healthiest seasoning on the market, while making baked potatoes a healthy and delicious part of any meal."
The Original seasoning rub is Frechette's own blend of natural sea salt, herbs, and spices that enhances the flavor of a baked potato, and helps create a crispy potato skin. The Pepper seasoning is a special combination of pepper varieties that will heat up any palate, and works great on barbecued steak, pork, and poultry. A favorite among garlic lovers, the Garlic seasoning adds a kick of intense flavor to breads, salads, vegetables, and more.
Pair the seasoning rubs with potatoes by sprinkling them on the outside of the potato before cooking. When dressing a potato, most use toppings that go on the inside, and neglect the skin which is where most of the vitamins and nutrients are found. With the Spud Spikes Everyday Seasonings and Rubs, the potato skin will be crispy and flavorful, a perfect complement to the fluffy inside when used with Spud Spikes potato nails.
For the remainder of the campaign, backers can pledge to receive the three-pack of GMO-free Spuds Spikes Everyday Rubs and Seasonings, along with other rewards to make the perfect baked potato.
To back the project today, or learn more about Spud Spikes, visit http://bit.ly/SpudSpikesKS. Also be sure to Like Spud Spikes on Facebook and Follow Spud Spikes on Twitter @SpudSpikes to stay up to date with the campaign, and learn about any announcements, contests and more.
About Spud Spikes
Spud Spikes, created by Leon Frechette and wife Kimberly Frechette, are original food-grade stainless steel 6-inch baking potato spikes that help create the perfect baked potato. Founded in January of 2003, the Frechettes were looking to solve a simple problem; an improperly cooked potato. Spud Spikes has seen such success throughout the years, the team has decided to introduce a brand new line of potato seasonings and Spud Spikes. To learn more about Spud Spikes, visit http://www.spudspikes.com.