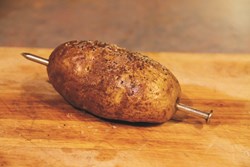 I got the idea for Spud Spikes back in January of 2003 while my wife, Kimberly, and I were attending the Builder's show in Las Vegas.
Spokane, WA (PRWEB) November 11, 2013
Spud Spikes, the original food-grade stainless steel potato nails, begins its crowdfunding campaign today on Kickstarter. Spud Spikes are six-inch spikes that, when inserted through a potato, reduce cooking time by up to 50% while creating a crispy skin and a fluffy inside. The stainless steel spikes conduct heat from either side, and transfer it to the center of the food, which speeds up the cooking time. Complementing the Spud Spikes is a collection of potato skin seasoning rubs in three zesty flavors, including Original, Pepper, and Garlic, that help the potato achieve a crispier skin. Backers can get their hands on the spikes and rubs throughout the 35-day crowdfunding campaign.
The potato is a universal food staple because of its versatility in cooking, but one of the most popular and healthiest ways to prepare a spud, baking it, can be a very time consuming task. Often, people don't have enough time to fully bake a potato, and improperly cook or microwave them. This method results in potatoes that have a soft skin, are hard on the inside, or unevenly cooked.
"I got the idea for Spud Spikes back in January of 2003 while my wife, Kimberly, and I were attending the Builder's show in Las Vegas. I had been dealing with a manufacturer prior to this visit in regards to their stainless steel nails and screws for an alternative book I was working on," states Leon Frechette, creator of Spud Spikes. "The sales rep was showing my wife these stainless steel nails, and explaining how these would make great baking nails. When all of sudden, as my wife was looking at the nails, she said, 'Spud Spikes would be a great trade name for marketing this product.'"
First time buyers may note that Spud Spikes resemble common nails that can be purchased in a hardware store. However, many of the nails available in stores are made of aluminum which can bend and seep metallic properties into food. To avoid these problems, Spud Spikes are made from No. 316 food-grade 100% stainless steel, meaning they're completely safe, and don't negatively alter the taste of the potato. Spud Spikes are also longer than even the largest common nails, allowing the spikes to be used on larger-sized potatoes.
Frechette has also developed a brand new line of seasoning rubs to complement the spikes. The rubs are offered in Original, Pepper, and Garlic flavors. Each of these rubs adds a unique kick to potatoes, using a blend of sea salt and spices that are 100% free of MSG. After inserting the spike into the spud and drizzling with olive oil, users can generously sprinkle the rub on the potato skin. Frechette is confident that the Spud Spikes Baked Potato System yields the best potato anyone has ever tried.
Spud Spikes' Kickstarter campaign has a funding goal of $58,000. When the project is funded, the funds will go towards the production of new spikes and rubs as well as manufacturing of brand new packaging and labeling.
To back the project today, or learn more about Spud Spikes, visit http://bit.ly/SpudSpikesKS. Also be sure to Like Spud Spikes on Facebook and follow Spud Spikes on Twitter @SpudSpikes to stay up to date with the campaign, and learn about any announcements, contests and more.
About Spud Spikes
Spud Spikes, created by Leon Frechette and wife Kimberly Frechette, are original food-grade stainless steel 6-inch baking potato spikes that help create the perfect baked potato. Founded in January of 2003, the Frechettes were looking to solve a simple problem; an improperly cooked potato. Spud Spikes has seen such success throughout the years, the team has decided to introduce a brand new line of potato seasonings and Spud Spikes. To learn more about Spud Spikes, visit http://www.spudspikes.com.