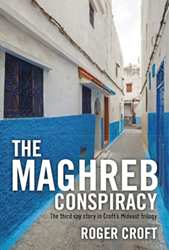 The third of these spy novels came to me when I was trying to plan a new espionage tale while on a short visit to Morocco, part of North Africa called the Maghreb
Toronto, Canada (PRWEB) November 08, 2014
Spy book author Roger Croft recently announced the release of his latest book, "The Maghreb Conspiracy." Croft, who has penned five novels, said that his recent release is the third and final book in the Vaux series, which features the fan-favorite lead character, Superspy Michael Vaux.
"I introduced Michael Vaux, created him for 'The Wayward Spy' about five years ago," said Croft. "Reader reaction was so strong—everybody was taken by his rather rumpled, disorganized character—that I decided to meet the calls for a sequel."
Croft added that the sales for the second novel in the series, "Operation Saladin," exceeded the first novel.
"The third of these spy novels came to me when I was trying to plan a new espionage tale while on a short visit to Morocco, part of North Africa called the Maghreb," said Croft.
For those interested in Croft and his work, his website, http://www.rogercroft.com, offers information on his books, including excerpts and purchase information, reviews and other information on the author.
The book takes some literary license with historic facts, but the story is based on real terrorist events in London, Casablanca and Madrid that occurred between 2000 and 2005, said Croft.
Fans of the series will be happy to hear that familiar characters like bluff but amiable George Greaves, the MI6'S head of station in Rabat, and the narcissistic Alan Craw, Vaux's immediate boss at Department B3, make their appearances in the latest story—as does Anne, Vaux's beautiful English girlfriend, who dispenses some loving attention just when Vaux needs it.
Croft said that the ongoing turmoil in the Middle East is such a fertile ground for spy thrillers and their authors that potential plots crop up every day. He added that readers can likely expect more espionage novels from him.
Croft has been a writer for more than 50 years, with more than 30 of those years as an international journalist. He started to write novels after leaving the newspaper business.
About Roger Croft
Roger Croft is an international writer and journalist who just released his fifth book, the third in a trilogy, titled "The Maghreb Conspiracy. For more information, please visit http://www.rogercroft.com