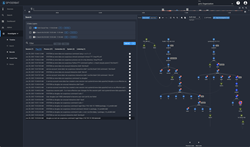 It reveals previous unknowns, allowing me to easily explore any event of interest and see the whole picture
AUSTIN, Texas (PRWEB) August 24, 2021
Spyderbat, Inc., a trailblazer in Attack Tracing and Intercept (ATI), announces three ATI product versions – Community Edition, Professional Edition, and Enterprise Edition. In a separate release the company announced the availability of their Defend the Flag Challenges, gamifying real attack traces to enable security analysts to become ATI experts in a matter of hours (Spyderbat Announces Defend the Flag Challenges). "Spyderbat takes a whole new approach to alert triage and investigation. Security analysts get to the answer in a fraction of the time compared to existing investigation tools," according to Marc Willebek-Lemair, Spyderbat CEO.
Spyderbat crushes alert triage and investigation time by fusing operational activities with security context based on their causal connections. With immediate access to the complete and accurate attack trace, security analysts no longer worry about what is missing. "Spyderbat opens the doors to a new level of security and operational awareness." said Aldo Gonzalez, CTO at Client Support Software and an early Spyderbat user. "It reveals previous unknowns, allowing me to easily explore any event of interest and see the whole picture."
Attack, Trace, and Intercept Technology – Lightening Fast Alert Triage and Investigation
Security analysts confront an insurmountable challenge from a high volume of alerts, mostly false positives, and investigations filled with missing or ambiguous data. This manual workflow is time consuming and error-prone, leading to inconclusive results that allow attacks to go unnoticed until too late.
Security Context Fusion
Spyderbat's ATI differs from existing solutions through their foundational Operations Plane, a system-wide real-time graph plotting every interaction to its causal precedents and outcomes. Fusing third-party alert data in realtime connects previously, undetected or investigated attack steps to current detections. The result is a focused causal trace for the security analyst, capturing emerging attacks from origin to current state, enabling rapid intercept and averting damage.
"Spyderbat brings decades of experience working with CISOs and security analysts to solve one of the most challenging aspects of security investigations." states Marc Willebeek-LeMair, CEO and Spyderbat co-founder. "ATI delivers this immediate, complete, accurate picture of the attack so security analysts can cut to the chase."
Community Edition
Spyderbat Community edition enables you to begin protecting your own environment with Attack Tracing & Intercept.
Available now, free
Professional Edition
Spyderbat Professional edition provides teams with a cost-effective ability to add and manage systems to crush your investigation and triage time.
Available now, pricing by request
Enterprise Edition
Spyderbat Enterprise edition enables enterprise-wide visibility with flexibility in data retention and payment terms to support each enterprises' needs.
Available now, pricing by request
About Spyderbat
Spyderbat introduces the industry's first attack tracing and inception tool to radically change the way organizations handle early threat discovery and investigation. Spyderbat is backed by LiveOak Venture Partners, Benhamou Global Ventures, and cybersecurity veteran John McHale. To learn more, sign up for Spyderbat's Community Edition, and play Defend the Flag Challenges, visit http://www.spyderbat.com.