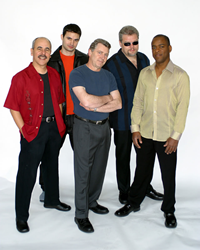 We are proud to bring the legendary Spyro Gyra back to New York City for this very special performance of their Morning Dance 35th Anniversary show.
New York, NY (PRWEB) August 05, 2014
Smooth Jazz New York is pleased to announce a special fall Smooth Cruise Encore performance to top off their successful 17th annual Smooth Cruise summer season featuring the Dave Koz & Friends' Summer Horns Tour, Rachelle Ferrell, Boney James, and more acclaimed contemporary jazz acts. This Friday, October 3, 2014, the Smooth Cruise Encore features smooth jazz icons, Spyro Gyra, performing aboard The Hornblower Infinity cruise ship. To mark the 35th anniversary of the release of their breakthrough "Morning Dance" album, Spyro Gyra will be performing it start to finish at the New York City show, and will continue the show with highlights of more of their memorable music. The 7 p.m. Smooth Cruise Encore departs from Pier 40 located at Houston Street at the West Side Highway, and cruises down the Hudson, not only offering exceptional music, but breathtaking views of the Statue of Liberty and the New York City skyline.
"We are proud to bring the legendary Spyro Gyra back to New York City for this very special performance of their 'Morning Dance' 35th Anniversary show," notes Bill Zafiros, co-founder of Marquee Concerts and Smooth Jazz New York.
For three and a half decades, Spyro Gyra has maintained a strong position at the forefront of the modern jazz world. The band's debut album "Morning Dance," released in 1979, included the title track that became a Top 40 single and proved to be the band's breakout single. To this day, the Calypso-inspired track is still in heavy rotation on contemporary jazz stations across the country. Soon after the first album's release, the band initiated a heavy touring schedule that has been in perpetual motion ever since.
Spyro Gyra signed with Heads Up International in 2001 and recorded "In Modern Times," an album that spent 64 weeks on Billboard's Contemporary Jazz chart, peaking at the number two position. Two years later, the band released "Original Cinema," followed by "The Deep End" in 2004, and both albums spent a considerable amount of time on the Billboard Contemporary Jazz charts. 2006's "Wrapped in a Dream" cemented the band's position as heavyweight contenders in the contemporary jazz arena, earning a GRAMMY nomination and wide critical acclaim. Spyro Gyra continued this momentum into 2007, releasing "Good To Go-Go," an album that captures a more live groove with the help of new drummer Bonny B. "Good To Go-Go" scored two GRAMMY nominations in December 2007: Best Pop Instrumental Album and Best Pop Instrumental Performance (the latter nomination for the track "Simple Pleasures"). In 2009, Spyro Gyra added the album, "Down the Wire" to its voluminous discography and earned the group a GRAMMY nod for Best Pop Instrumental Album.
Spyro Gyra has continued to remain an exciting and dynamic instrumental group, constantly pushing and exploring the boundaries of contemporary jazz. Their most recent album, "The Rhinebeck Sessions," was released in the fall of 2013.
For information and to purchase tickets, visit http://www.smoothjazznewyork.com. Early Bird Tickets are $45 and are ON SALE NOW for a limited time only online at Ticketweb.com and by phone at 1-866-468-7619. Standard tickets are priced at $55. The Smooth Cruise Encore offers food and beverage service at an additional charge. A buffet dinner may be purchased for an additional $25 in advance (and on site); cash bar. Limited Deluxe Packages are available, featuring preferential boarding, a premium buffet on a private dining deck, premium open bar, and a reserved seating section. It is recommended that tickets be purchased early as the Smooth Cruises tend to sell out.
About Smooth Jazz New York:
Smooth Jazz New York, a subsidiary of Marquee Concerts, has produced the Smooth Cruises for the last 16 summer seasons. The organization produces and promotes New York's biggest and best Smooth Jazz shows, and serves as the portal for live jazz shows in the New York Metropolitan area. Learn more at http://www.smoothjazznewyork.com.
About Marquee Concerts:
Marquee Concerts, one of the premier concert promoters in the Northeast, produces hundreds of events across all spectrums and genres. Marquee is constantly researching new music trends, recognizing today's up-and-coming entertainers, and expanding upon existing business relationships to put on the best shows possible and remain a competitive mainstay in the concert promoter's industry. Learn more at http://www.marqueeconcerts.com.