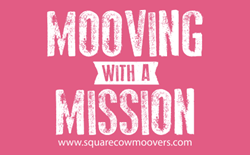 We wanted to show our support and get the message out about breast cancer awareness, because it's an issue that affects all of us. - Wade Lombard
Austin, TX (PRWEB) November 10, 2014
Breast cancer is a disease that will affect 1 in 8 women at some point in their lives, and is the second leading cause of death for females. It's these kinds of facts that the American Cancer Society aims to make people aware of during the month of October. Square Cow Movers joined the effort during Breast Cancer Awareness Month and is now making donation to help patients in Texas beat the disease.
The Square Cow Movers team is donating $4,000 to the Breast Cancer Resource Center of Texas. The center, which is staffed by breast cancer survivors, provides support to cancer patients and their families as well as information that empowers them to make the best treatment decisions. Square Cow Movers is also donating another $1,000 to a local Austinite who is currently fighting her way through breast cancer.
During the entire month of October the Square Cow Movers team also wore specially made pink shirts with the message 'Mooving with a Mission' in order to draw attention to the cause. Every Tuesday and Thursday the movers, management personnel, employees and family members proudly wore pink. "The shirts did catch people's attention," said Square Cow Movers owner Wade Lombard. The cause hits home with Mr. Lombard, whose mother is a breast cancer survivor. "We wanted to show our support and get the message out about breast cancer awareness, because it's an issue that affects all of us."
Square Cow Movers is encouraging other businesses and individuals to get involved in the fight against breast cancer all year long. To learn more about Square Cow Movers' philanthropic work, their community involvement and the services they offer, please visit: http://www.squarecowmovers.com
About Square Cow Movers
Square Cow Movers isn't your typical moving company. Using the Art of Mooving - a no bull, customer-first code of ethics - Square Cow Movers has built a business on providing a personalized moving experience that takes the stress out of a move. With locations in Austin and Houston, Square Cow Movers is the go-to resource for moving in Central Texas.