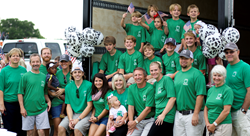 Participating in events like the Lakeway Fourth of July parade is a fun way for our family to give back to a community that supports us all year long. - Wade Lombard
(PRWEB) July 21, 2014
Spectators at the Lakeway Fourth of July parade were the first to get a glimpse of the newest Square Cow Movers truck. The popular moving company was among the many locals that participated in the annual event now in its 39th year. The moving truck was among the numerous floats, classic cars, marching bands and equestrian groups that joined in on the festivities. Each parade entry paid tribute to the country and this year's theme "Saluting Citizen Soldiers."
The City of Lakeway is known for its old-fashioned, all day Fourth of July celebrations, which begin with the parade that winds through the city center. Many of the city's residents lined the road to watch as the parade participants went by and WWII planes flew overhead. The unique sliding sides of Square Cow Movers' new truck made it easy for the youngest family members to toss out candy to the other children along the way.
"It was a really special occasion for us since the entire family was able to join in," said Wade Lombard, one of the owners of Square Cow Movers. "We're proud that we have a truly family-owned business. Participating in events like the Lakeway Fourth of July parade is a fun way for our family to give back to a community that supports us all year long."
Lakeway, TX is one of Square Cow Movers' many operational areas in Central Texas. The moving company has been working in the community for the last few years, and they expect for business to increase as the population of Lakeway continues to grow.
While the Square Cow Movers truck wasn't selected as the winner of the Best of Parade award, one of the company's pictures from the parade was selected as the cover photo for the Lakeway Voice August issue. Photos of the parade and the new Square Cow Movers truck can also be viewed in 2014 Fourth of July Celebration photo gallery on the City of Lakeway website.
To learn more about all the Square Cow Movers locations, their activities with the community and the services they offer, please visit: http://www.squarecowmovers.com.
About Square Cow Movers
Square Cow Movers isn't your typical moving company. Using the Art of Mooving - a no bull, customer-first code of ethics - Square Cow Movers has built a business on providing a personalized moving experience that takes the stress out of a move. With locations in Austin and Houston, Square Cow Movers is the go-to resource for moving in Central Texas.