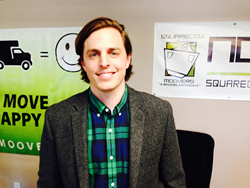 We leverage social media to get the word out about our business, but at the end of the day businesses have to provide outstanding services if they want to inspire customers to share their experience. -Wade Lombard
Austin, Texas (PRWEB) April 30, 2014
Square Cow Movers is pleased to announce that owner Wade Lombard had been personally invited by Darnell Holloway, the Senior Manager of Local Business Outreach for Yelp, to speak at the company's next event. The Keys To Local Success Online event will feature panel discussions, a Q&A session and networking opportunities for small business owners in the Austin area.
Mr. Lombard will be taking part in the panel discussion as well as the Q&A right afterward. The panel members, which include members of Yelp's Elite squad and local business owners, will cover topics that are centered around how small business can use social media and review sites to grow their customer base. Information on proven strategies for Yelp, Google+, Twitter, Facebook and Foursquare will be provided.
In the past Mr. Lombard has been asked to speak at the Yelp headquarters, and in 2013 Square Cow Movers was invited to be a member of the Yelp Small Business Advisory Council (YSBAC) for the third year in a row. Mr. Lombard has been recognized for his company's remarkable success on Yelp after receiving 242 reviews and a five star rating in just six years of doing business. "We are so pleased about the recognition Yelp has given us," said Mr. Lombard. "Our goal is to simply give our clients the best customer service possible. We leverage social media to get the word out about our business, but at the end of the day businesses have to provide outstanding services if they want to inspire customers to share their experience."
The Keys To Local Success Online event is taking place on May 1, 2014 at Mercury Hall in Austin, TX. Attendees will be treated to complementary food and beverages at the start of the event followed by the panel discussion and Q&A portion.
To learn more about Square Cow Movers, the services they offer and their customer service philosophies, please visit: http://www.squarecowmovers.com.
About Square Cow Movers
Square Cow Movers isn't your typical moving company. Using the Art of Mooving - a no bull, customer-first code of ethics - Square Cow Movers has built a business on providing a personalized moving experience that takes the stress out of a move. With locations in Austin and Houston, Square Cow Movers is the go-to resource for moving in Central Texas.