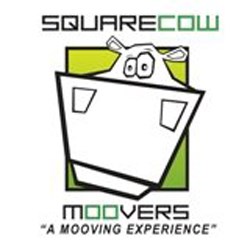 Square Cow Movers owner Wade Lombard explained, "In an area with so many successful and growing tech industries the Austin Fast 50 tends to be dominated by that sector. We're honored that we are able to represent traditional service providers."
Austin, TX (PRWEB) October 16, 2013
After learning they made the 2013 Austin Business Journal Fast 50 list back in August, Square Cow Movers is finally about to discover exactly where they fall on the list of the top fifty fastest growing businesses in Central Texas. This Thursday the winners will be revealed at the Austin Fast 50 Cocktail Reception & Awards presentation.
Square Cow Movers and their friends over at QualTech Automotive were happy to find out that they were among the few companies from the service industry to make the cut for this year's Austin Fast 50 nominees. Square Cow Movers owner Wade Lombard explained, "In an area with so many successful and growing tech industries the Austin Fast 50 tends to be dominated by that sector. We're honored that we are able to represent traditional service providers."
Square Cow Movers attributes their success to the company's exceptional customer service and personal approach to moving. Now with two locations in Central Texas and invitations to join national groups like Yelp's Small Business Advisory Council, Square Cow Movers is positioned to keep growing.
During the Austin Fast 50 Cocktail Reception & Awards Presentation, winners from the two different categories will be announced. Nominees are segments in groups: small companies with less than $10 million in annual revenue and large companies with more than $10 million in annual revenue. Winners are determined by who has the highest annual compounded growth from 2010-2012.
Last year's winner for the small company category was EBQuickstart LLC with a annual compounded growth rate of 102.43%. In the large company category Whaleshark Media Inc. took top honors with an amazing 532.46% in annual compounded growth.
The cocktail reception and awards presentation will be held this Thursday from 6-8 p.m. at the AT&T Conference Center. The gala will be followed the next day by a special edition piece in the Austin Business Journal.
To learn more about Square Cow Movers, their services and their customer first way of doing business, please visit squarecowmovers.com.
About Square Cow Movers
Square Cow Movers isn't your typical moving company. Using the Art of Mooving - a no bull, customer-first code of ethics - Square Cow Movers has built a business on providing a personalized moving experience that takes the stress out of a move. With locations in Austin and Houston, Square Cow Movers is the go-to resource for moving in Central Texas.