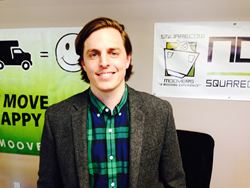 'We have seen a lot of success in the last few years,' noted Wade Lombard, Square Cow Movers owner. 'We're more than happy to share our story and what we've learned with other local businesses to help them realize the same results.'
Austin, TX (PRWEB) March 17, 2014
Square Cow Movers has made community service and involvement a huge part of their overall business model, and this March they will be helping professionals in the Lakeway, TX area. The Lake Travis Chamber of Commerce has asked Wade Lombard, one of the owners of Square Cow Movers, to be a part of their March luncheon. The Chamber's monthly luncheons are focused on giving business people in Lakeway an opportunity to learn from the successes of others and to recognize businesses that are making a difference in the area.
The theme for the March luncheon is "How I Built It". On March 19, 2014 Mr. Lombard will discuss how he, Derek Lombard and Wayne Lombard built Square Cow Movers into a successful business in a short amount of time. "We have seen a lot of success in the last few years," noted Mr. Lombard. "We're more than happy to share our story and what we've learned with other local businesses to help them realize the same results."
Two points that will be discussed during the luncheon are Square Cow Mover's focus on customer service and its role in giving back to the community. Attendees will have a chance to meet Mr. Lombard and ask questions during a networking session after the program. For more information on the March Lake Travis Chamber of Commerce luncheon, please visit the LTCC website.
To learn more about Square Cow Movers, how they do business and the services they offer, please visit: http://www.squarecowmovers.com.
About Square Cow Movers
Square Cow Movers isn't your typical moving company. Using the Art of Mooving - a no bull, customer-first code of ethics - Square Cow Movers has built a business on providing a personalized moving experience that takes the stress out of a move. With locations in Austin and Houston, Square Cow Movers is the go-to resource for moving in Central Texas.