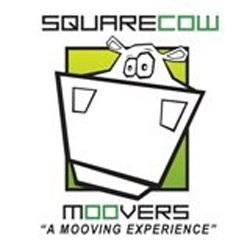 Owner Wade Lombard, explained, "our business is about helping people get settled into their homes, which is exactly what Settlement Home for Children is doing for kids in need. We can't think of a better way to use our resources and knowledge."
Austin, TX (PRWEB) October 24, 2013
Square Cow Movers is once again helping The Settlement Home for Children with manpower and moving trucks as they get geared up for the annual Charity Garage Sale. For two days they will provide four trucks and 8-10 professional movers that will help haul and unpack thousands of goods before the big event.
Anytime Square Cow Movers sees a need for their expertise they don't hesitate to extend a helping hoof. Owner Wade Lombard explained, "Our business is about helping people get settled into their homes, which is exactly what Settlement Home for Children is doing for kids in need. We can't think of a better way to use our resources and knowledge."
This year Square Cow Movers is increasing their involvement by doubling the number of trucks and movers they are making available to the Settlement Home for Children.
ABOUT THE SETTLEMENT HOME FOR CHILDREN CHARITY GARAGE SALE
Below are details about the Charity Garage Sale and its related events.
WHEN: November 1-3, 2013
10am – 5pm (Sunday Box Sale begins at 3pm on the 3rd)
Where: Parmer Event Center
900 Barton Springs Rd.
Austin, TX
This year's preview party will be held on Wednesday October 30th from 7-10pm at the Parmer Event Center. Tickets are available for $75 each and include dinner along with entry into the party. All proceeds from the preview party and Charity Garage Sale go to the Settlement Home for Children.
To learn more about the Settlement Home for Children and their annual Charity Garage Sale, please visit: http://www.settlementhome.org/
About Square Cow Movers
Square Cow Movers isn't your typical moving company. Using the Art of Mooving - a no bull, customer-first code of ethics - Square Cow Movers has built a business on providing a personalized moving experience that takes the stress out of a move. With locations in Austin and Houston, Square Cow Movers is the go-to resource for moving in Central Texas.