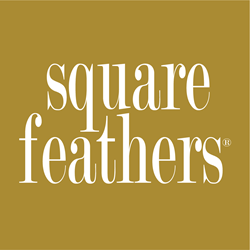 "I live in the moment. One day I literally tossed about five of them in the car with Rebecca and our dog. I said hey let's go drive around because I want to sell a few of my pillows," Ron McIntyre, Founder and CEO of Square Feathers
AUSTIN, TEXAS (PRWEB) July 12, 2017
Square Feathers, a family owned and operated pillow, furniture, art, and home accessories Company based in Austin, Texas, is pleased to announce its brand-new product line. They are now offering occasional tables; including side tables, coffee tables, end tables, cased goods, and night stands. The tables are a supplement to the Company's full suite of products, with collections designed to fill an entire room.
Launched in 2008 by Founder and CEO Ron McIntyre, Square Feathers was born from his inspirations. They stem from the vibrancy and diversity of life he witnessed and experienced through global travels. With no budget for market research, he launched Square Feathers by creating pillows in the garage of his residence in Austin, Texas. "When we moved to Austin for Rebecca's job, I couldn't really find one. I was able to spend more time on my design hobby than ever before. I began creating the most beautiful and extraordinary pillows imaginable, and I found a passion and fulfillment like never before," stated McIntyre. All pieces are the original work of Ron McIntyre. He sources material personally through global travels and many incorporate his photography.
Square Feathers has flourished at record speed with consistent year over year growth since launching. "I know that one major thing we did right was starting small and staying strategic. I focused on pillows only, and we did them so well and so unique that my reputation grew fast for making extraordinary products," Mr. McIntyre added. From there, he realized a natural tie in to pillows would be something to put them on. So, he introduced chairs, benches, stools, ottomans, and then sofas. Since its humble beginnings, the Company has evolved carefully into new products and markets. The demand for new products continues right in line with Ron's personal and the Company's brand awareness increasing; coupled with a solid reputation for great products.
"I live in the moment. One day I literally tossed about five of them in the car with Rebecca and our dog. I said hey let's go drive around because I want to sell a few of my pillows," added Mr. McIntyre. And the rest is history.
"Growing this Company was not planned, imagined, nor expected. I wake up each day with passion and continue to do what I love. We appreciate our customers for their support which allows us to continue creating. We are thrilled to be adding these tables and roll them out at the AmericasMart Atlanta Market this week," added Mr. McIntyre.
Continuing to operate as a family owned Company has allowed Square Feathers to deliver custom and personal service for almost ten years. All products are made in the USA, shipped almost immediately from the Austin studio, and can be customized by request with hundreds of fabric options. For more information and to shop the new occasional tables visit http://bit.ly/squarefeatherstables.
Ron McIntyre and Square Feathers are showing now at the CODARUS AmericasMart Atlanta event in Atlanta, Georgia through Tuesday, July 18th with formal debut of occasional tables. For more information about the event or to register, visit: https://www.americasmart.com.
The next stop on the Square Feathers summer tour is the CODARUS Las Vegas Market in Las Vegas, Nevada; July 30th to August 3rd, 2017. Las Vegas Market is the only major home furnishings market in the west and is the fastest growing gift and home décor market in the country. This unique offering draws tens of thousands of buyers twice a year from 50 states and 76 countries. For more information about the event or to register, visit: http://www.lasvegasmarket.com
About Square Feathers:
Square Feathers is an Austin, Texas based national Company that crafts decorative pillows, furniture, occasional tables, art and home accessories, all designed and made in the USA. Its signature creations contrast cultural ethnicities with modernism that only its avid world traveler founder and designer, Ron McIntyre, can fashion. Founded in 2008 out of his garage by selling door to door, Mr. McIntyre prides himself in the ability to ship same day, and customize to size and fabric needs. Square Feathers has been coined the industry's "can do Company" for its ability to provide custom and sophisticated design solutions for any project. Award-winning Square Feathers has been featured in countless home design and décor publications for its fresh innovation and design expertise.
Media Contact:
Cami Gueguen, CAMIO PR
Founder and Managing Principal
512.215.4745
cami(at)camiopr.com
http://www.camiopr.com
Square Feathers Contact:
Ron McIntyre
Founder and Chief Executive Officer
512.301.2939
ron(at)squarefeathers.com
http://www.squarefeathers.com