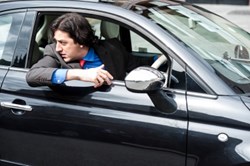 SR22 types of insurance policies each can carry a different bond amount that is required by court order and not all companies provide high dollar bond amounts
Madison, Wisconsin (PRWEB) November 21, 2013
Vehicle owners who are considered by insurance companies to be at more of a risk for accidents or other damage could be classified as a high risk driver. The Auto Pros company is now easing the research online to find SR22 car insurance quotes from insurers at http://www.autoprosusa.com/insurance.
The immediate quotes now being generated upon use of the finder system online are meant to educate high risk drivers in the U.S. These quotes include exact prices offered by groups on insurers available to underwrite SR22 bonds for insurance plans.
This helpful service is now provided to any owner of a motor vehicle unable to find a local company capable of underwriting a policy. One advantage of using this new system is the number of companies that a driver can access during a single online search.
"SR22 types of insurance policies each can carry a different bond amount that is required by court order and not all companies provide high dollar bond amounts," a staff member for the Auto Pros company said.
The development of the database program that is used to fulfill the insurance quotes online is a project that has been underway for most of the year. The system was originally designed to provide a way for the average person to locate a new insurance company. The lack of bond underwriters in some portions of the U.S. has created the foundation to launch this new tool.
"A driver who is classified as a risk-free driver could pay reduced rates compared with a driver who has a driving record that includes fault accidents and other reports of damage," the staff member confirmed.
The bonded policies that can be instantly quoted using the online tool at the Auto Pros website are one element of the insurance finder system. A quote can now be reviewed for a repair coverage plan that can be underwritten by a number of different warranty companies by using the new tool at http://www.autoprosusa.com/auto-warranty.
About AutoProsUSA.com
The AutoProsUSA.com company now supplies information to automobile owners in the United States for locating insurance policies and warranty programs that top companies are providing at affordable prices. These services are part of the connected services featured on the company website. The AutoProsUSA.com company is known as a trusted automotive resource on the Internet and has transformed the second hand parts industry with its database solutions online. The company staff participates in the customer service programs that are created to assist all website visitors requiring information or other services details.