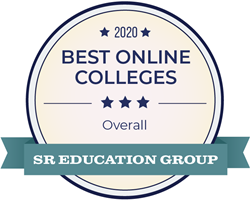 The company researched 1,943 online colleges in order to determine the best online schools in the nation.
KIRKLAND, Wash. (PRWEB) October 01, 2019
SR Education Group, a leading education research publisher founded in 2004, has just released their 2020 rankings for the best online colleges. The company researched 1,943 online colleges in order to determine the best online schools in the nation. The rankings on GuidetoOnlineSchools.com highlight online colleges that provide the best return on investment, using alumni salary data from PayScale and tuition rates from official school websites.
The best online college rankings include four national rankings and 47 by-state rankings. The methodology for these rankings employs median mid-career salary data, as well as manually researched tuition rates and degree offerings. Since salaries differ by degree level, SR Education Group utilizes bachelor's- and master's-specific salary data for the rankings. The doctoral rankings focus on factors that are important to prospective students, including student-to-faculty ratios and total research expenditures.
"In our 10th year of publishing college rankings, we are proud to lead the way in offering the most accurate, comprehensive, and accessible rankings for online students. We know that program costs and return on investment are two objective, important factors to current students. This is why we have spent the past year researching over 1,900 schools to highlight the best online colleges of 2020," Sung Rhee, CEO of SR Education Group.
SR Education Group is also announcing four most affordable rankings lists on OnlineU.org for the 2020 year. The most affordable rankings feature online colleges that are committed to providing affordable, economical options for prospective students. Each year, the company manually researches and collects the tuition rates of every accredited college offering fully online degrees to determine and rank the most affordable options.
The 2020 rankings include 694 unique schools among the 56 different ranking lists. Of the colleges considered, The George Washington University topped the 2020 Best Online Colleges & Degrees list, and Tennessee State University ranked first for Most Affordable Colleges.
About SR Education Group
Headquartered in Kirkland, WA, SR Education Group was founded in 2004 by CEO Sung Rhee. The company's mission is to create authoritative online resources for students seeking an online education program that best suits their budget and career aspirations. SR Education Group is passionate about making quality education attainable for everyone and believes that objective information about education, careers, and educational financing should be free and easily accessible. For more information, please visit https://www.sreducationgroup.org/.