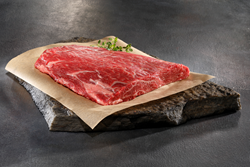 "For my taste, there is no cut of beef that I would rather eat than Snake River Farms' Gold Grade cap." - Susie Heller, Chef and Author
Boise, ID (PRWEB) June 19, 2014
The Cap of Ribeye is the most prized Snake River Farms American-Style Kobe beef cut and to-date has only been available at the most prestigious Michelin-starred restaurants. Today, Snake River Farms announces the availability of this highly prized cut via their ecommerce store. Available in both Black Grade ($199) and Gold Grade ($249), both options include complimentary 2-Day shipping.
The Cap of Ribeye is also known as the deckle steak or the ribeye cap among true beef aficionados. In France, it goes by the name of calotte steak and in more scientific circles it is known as the spinalis dorsi. Regardless of its name, the Cap of Ribeye is a delicacy and widely considered to be the most flavorful and tender cut of beef available.
"For my taste, there is no cut of beef that I would rather eat than Snake River Farms' Gold Grade cap. It has an incredible depth of flavor and is so tender you barely need a knife. I like to sauté or grill the meat, forming a well-browned crust with a medium-rare interior. The generous marbling melts in your mouth creating a unique experience that I can only describe as luscious." - Susie Heller

Heller is an author and producer of cookbooks (including five with Chef Thomas Keller) and cooking shows and has worked with many of America's top chefs.
To purchase the Cap of Ribeye from Snake River Farms, visit http://www.snakeriverfarms.com or call 877.736.0193.
About Snake River Farms
Snake River Farms has been passionate about delivering the finest eating experiences for the past fifteen years, a luxury once reserved exclusively for the world's most esteemed restaurants. Featured on the menus of three-star Michelin-rated restaurants, Snake River Farms products include American Wagyu beef, fresh Kurobuta pork and gourmet hams. The family-owned business began more than a decade ago with a small herd of Wagyu cattle from the Kobe region of Japan. The Wagyu bulls were crossed with premium American Black Angus to form a proprietary herd that has developed into one of the finest groups of Wagyu/Angus cross cattle in the U.S. Along with their American Wagyu beef and Berkshire pork, Snake River Farms also makes gourmet hamburgers, hams, sausages, frankfurters and hardwood smoked bacon. All products are made with only the finest ingredients to ensure an exquisite eating experience.