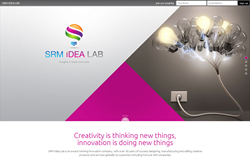 It was exciting to bring SRM's vision and creativity to life on the web.
Plainfield, IL (PRWEB) June 30, 2014
Idea Marketing Group has designed and developed a new website for SRM Idea Lab. With offices in Philadelphia, PA and Kowloon, Hong Kong, SRM Idea Lab was looking for a firm that could help build a new website featuring interactive and animated features that highlight their innovative work in developing toys and products of play.
With core values balanced between illustrating the power of imagination of an 8 year old child and providing research and market data for the best return on an investment, SRM is a leader in producing innovative toys and products of play. "It was exciting to bring SRM's vision and creativity to life on the web," says Len Bradley, web developer at Idea.
Idea Marketing Group took on the task of creating a website as unique as the services they offer in this imaginative field. By creating a parallax design with interactive and animated website aspects, SRM is able to showcase their innovative concepts and designs in a fun and unique way. The website is built in Wordpress and has a backend management system. As with all Idea websites, it was built on a strong SEO platform.
See More about SRM Idea Lab here.
Idea Marketing Group is a web design and marketing firm with offices in the Chicago, IL area. Since 2009, Idea strives to provide creative, unique and cutting-edge websites and individualized goal-driven marketing. Clients choose Idea Marketing for award winning web design and marketing services from an experienced and passionate web team that helps grow businesses. To learn more about SRM Idea Lab or Idea, visit http://www.ideamktg.com or call 312.834.7001.