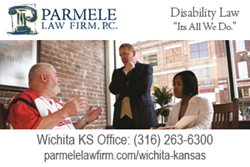 Wichita, KS (PRWEB) March 27, 2014
Parmele Law Firm is a law firm dedicated to helping thousands of people succeed in obtaining the Social Security benefits they deserve. Their culture fosters the belief that every individual with a disability and their family members should have access to appropriate resources and receive necessary services and support with dignity. They have found that many people with disabilities do not always receive the support they need in the U.S. due to inaccurate information, including the media as one source and a 60 Minutes expose about the Social Security disability system that aired on October 6, 2013. The coverage indicated that applicants seek and receive disability checks unfairly and take advantage of the system. Parmele Law Firm counters that while some inappropriate claims exist in every government program, the standards of the disability approval process are high and generally obstruct attempts to receive disability funding undeservedly.
Parmele Law firm has been using their experience in the disability benefits field to raise awareness of the misrepresentations of the system in the media. Past stories on 60 minutes, NPR, the Wall Street Journal and Fox News portrayed an ineffective and unfair disability benefits system. These reports presented unbalanced data and were negative and inaccurate. More recently, news releases have been more balanced in the portrayal of the disability benefits system. Additionally, government hearings and action in supporting the disabled are improving.
Parmele Law firm attorneys are dedicated to helping those in need and have written blogs on this subject to address concerns or questions. The results quantify the daily challenges, fears and deep disparities among parents of children with autism and other disabilities as compared to parents of typically developing children. Parmele Law firm strives to lead communities in action for the disabled and to provide benefits fairly and judiciously to deliver services for those people managing with disabilities.
One step towards advocating for the disabled is understanding the government legislation that is currently in process and contacting local legislators in support of the action enacted on Capitol Hill. Parmele Law firm recommends these actions for those that have difficulty in advocating for themselves.
About Parmele Law Firm, PC
Parmele Law Firm is considered to be one of the premier providers of Social Security disability legal assistance in the Midwest with offices in Missouri, Kansas and Illinois. Parmele Law Firm has close to 20 disability attorneys and an excellent team of para-legals and support staff that deal with SSDI claims every day. Since its founding, Parmele Law Firm has represented over 50,000 cases against the Social Security Administration and has an excellent track record of success getting disabled people the SSD benefits they deserve. Parmele Law Firm offers free consultations.
Contact:
Daniel Parmele
http://parmelelawfirm.com
MISSOURI
Parmele Law Firm, PC
1610 North Kingshighway Street #203
Cape Girardeau, MO 63701
(573) 651-0700
Parmele Law Firm, PC
1900 North Providence Road #205
Columbia, MO 65202
(573) 441-0781
Parmele Law Firm, PC
1001 Craig Road Suite 240
Creve Coeur, MO 63146
(314) 655-1448
Parmele Law Firm, PC
999 Diamond Ridge #102
Jefferson City, MO 65109
(573) 635-5700
Parmele Law Firm, PC
614 South Main Street
Joplin, MO 64801
(417) 206-4460
Parmele Law Firm, PC
2301 McGee Street #150
Kansas City, MO 64108
(816) 531-3330
Parmele Law Firm, PC
2605 South Jefferson Avenue
Lebanon, MO 65536
(417) 588-1366
Parmele Law Firm, PC
214 East Kansas Street #102
Liberty, MO 64068
(816) 415-9300
Parmele Law Firm, PC
926 North Main Street
Mountain Grove, MO 65711
(417) 926-6430
Parmele Law Firm, PC
1720 Kanell Boulevard #2
Poplar Bluff, MO 63901
(573) 785-6100
Parmele Law Firm, PC
1726 North Bishop Avenue
Rolla, MO 65401
(573) 364-3003
Parmele Law Firm, PC
830 East Primrose Street
Springfield, MO 65807
(417) 889-2570
Parmele Law Firm, PC
3105 Frederick Avenue
St. Joseph, MO 64506
(816) 387-4445
Parmele Law Firm, PC
720 Olive Street #2200
St. Louis, MO 53101
(314) 655-1448
Parmele Law Firm, PC
1207 Porter Wagoner Boulevard
West Plains, MO 65775
(417) 255-2580
KANSAS
Parmele Law Firm, PC
2304 Planet Avenue
Salina, KS 67401
(785) 825-4100
Parmele Law Firm, PC
3649 Southwest Burlingame Road
Topeka, KS 66611
(785) 271-9333
Parmele Law Firm, PC
8623 E 32nd Street North
Wichita, KS 67226
(316) 263-6300
ILLINOIS
Parmele Law Firm, PC
333 Salem PlaceSuite 250
Fairview Heights, IL 62208
(618) 272-2724