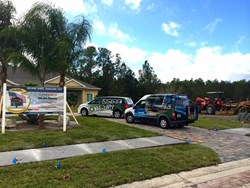 Homes for Our Troops will touch down in Tampa on December 5 to grant SSG Dillmann full access to his new home.
Tampa, FL (PRWEB) December 02, 2013
Homes for Our Troops (HFOT) is a national nonprofit that assists severely injured veterans and their families by raising money, building materials, and coordinating labor to build a home that enables the veteran to lead a more independent lifestyle. This holiday season, HFOT will complete twelve homes across the country and hand over keys to deserving heroes in a nineteen-day celebrative tour called "Home for the Holidays." The tour begins in El Cajon, CA on December 2 and ends in Burrillville, RI on December 21.
HFOT will touch down in Tampa on December 5 to grant Dillmann full access to his new home. Once complete, this super accessible Tampa home will feature ADA compliant hallways and walkways, touchpad bathroom controls, lowered counter spaces with wheelchair accessible spaces underneath, cupboards above that pull out and drop down with ease, and an automatically-powered porch lift for access to raised landings at the push of a button. The home is laid out on a single-story level to provide optimal convenience for SSG Dillmann.
None of this would be possible without the help of countless volunteers, local contractors such as Aziz Construction, and accessibility equipment providers like Mowen, Harmar, and 101 Mobility. New business owner Dennis Clouser of 101 Mobility Tampa says HFOT was his first client. Moved by the sentiment of the project, 101 Mobility Tampa partnered with Sarasota-based wheelchair lift manufacturer Harmar to donate a wheelchair lift and installation valued at $7,000. Clouser enthusiastically said that helping out was a "no-brainer" and was impressed with how hundreds of volunteers and several businesses have come together.
The Key Ceremony will be held on December 5, 2013 from 5 to 7. Click this link to RSVP for SSG Dillmann's Key Ceremony and Home for the Holidays.
101 Mobility is a full-service sales, service, and installation provider of a complete line of mobility and accessibility products and equipment, including stair lifts, auto lifts, ramps, porch lifts, patient lifts, power wheelchairs, scooters and more. Short and long-term rentals are also available for home, office, and institution. By working with patients to identify which home health care devices best suit each individual's needs, 101 Mobility provides an alternative to group homes and rehabilitation centers by increasing accessibility and allowing clients to live self-sufficiently in their homes.