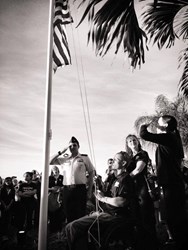 What we're doing for him just seems so minor compared to what he's done for us.
Tampa, FL (PRWEB) January 06, 2014
Army Staff Sergeant Alex Dillmann was on his second deployment to Afghanistan when his vehicle hit an IED during a night mission on February 27, 2011. The blast killed one soldier and left four others, including SSG Dillmann with serious wounds ranging from internal injuries to lacerations and broken bones.
Despite a challenging recovery, SSG Dillmann and his wife Holly are finding new ways to live the life they always dreamed of. National nonprofit Homes for Our Troops is dedicated to making sure that severely injured veterans like Alex get the specially adaptive homes they need to lead independent lives. The organization raised money, collected building materials, and coordinated labor to build a home for the Dillmann family. This month SSG Dillmann, his wife Holly and their small dog will officially move into the home.
The universally designed home's construction began in January 2013 and was successfully completed in December 2013 thanks to hard work and generous donations from countless volunteers, local contractors such as Aziz Construction, and accessibility equipment providers like Mowen, Harmar, and 101 Mobility. Dennis Clouser, owner of 101 Mobility Tampa says that SSG Dillmann deserves the very best. "It is mind-blowing to see what Homes for Our Troops has done. What we're doing for him just seems so minor compared to what he's done for us," he said.
This accessible abode was constructed in the beautiful Corey Lake neighborhood of Tampa, FL. The new house features ADA compliant hallways and walkways, touchpad controls, lowered counter spaces with wheelchair accessible spaces underneath, cupboards that pull out and drop down with ease, and an automatically-powered porch lift for easy outdoor access at the push of a button.
VIDEO: Click HERE to watch Alex Dillmann explore his new residence for the first time.
###
About 101 Mobility
101 Mobility is a nationwide full-service sales, repair, and installation provider of a complete line of mobility and accessibility products and equipment, including stair lifts, auto lifts, ramps, porch lifts, patient lifts, power wheelchairs, scooters and more. Short and long-term rentals are also available for home, office, and institution. By working with patients to identify which home health care devices best suit each individual's needs, 101 Mobility provides an alternative to group homes and rehabilitation centers by increasing accessibility and allowing clients to live self-sufficiently in their homes.
About Harmar
Harmar is the world's leading manufacturer of mobility and accessibility solutions including auto lifts, stair lifts, vertical platform lifts, inclined lifts, pool lifts, ramps and more. As "America's Lift Leader," the company has over 3,000 dealers in North America with a growing presence in South America, Europe, Asia, Australia, and New Zealand. Harmar corporate headquarters are located in Sarasota, FL.