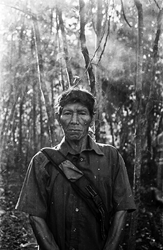 Star seed whisper America's & Africa's chronicles, creating bridges between native Culture and contemporary art.
New York (PRWEB) February 27, 2015
Celebrated visual artist Braithwaite has created an Indiegogo to fund Star Seed Whisper, a cultural research of African & American native groups depicted by the publication of a fine art photographic book, bound with mixed media visual art, plus live performances through vast contemporary venues.
Braithwaite is known for his large scaled multi layered, visually complex forms. He has continually challenged structures by engaging with fundamental sociocultural issues. The artist assembles a variety of inorganic and organic materials, confronting the viewer with bold directness and informal accuracy, depicting strong abstracts and conceptual narratives utilizing photography, video installations, and interventions.
His work has been featured in several art venues in the Americas, Europe and Africa such as Harding Gallery - San Francisco, SA Creatives - South Africa, Loma Casa del Arte and Allegro Galeria - Panama, Dalla Rosa Gallery 20x20 magazine - London UK, The Institute of Polish Culture - Budapest, Project WSA (World Smile Archive) at Perpignan France and the Festiwal Polskich Filmów Fabularnych - Gdynia Poland.
'Cultural bridge, Star Seed Whisper is for everyone'
"The goal of Star Seed Whisper is to bridge native and contemporary cultures by showing their sociocultural ties through visual arts," said Braithwaite in the Indiegogo promotional video.
The Star Seed Whisper expedition will begin in the Central America region of Guatemala and the border within South America's dense forest of the Darien province in Panama, that which borders in Colombia. The artist will then visit the Dogon people in Mali, West Africa, and The Kara and Dinkas, one of the largest ethnic groups in South Sudan. Ranging over the east of the continent to Ethiopia's southern nations of the Omo valley, more than eighteen ethnic groups will take part of the cultural research, and art performances.
A series of exhibitions will take place emerging from Braithwaite's cultural research and visual arts. Participating cities will include NewYork, Chiyoda Tokyo, Berlin, Beijing, Budapest, Dubai, Hong Kong, London, Paris, Saudi Arabia, Stockholm and Zurich. Collaborating with established and emerging performance artists from each city and country. Star Seed Whisper will carry out socio-cultural exchanges, open studios, lectures, and workshops where all viewers have the option to participate and create dialogue between cultures.
What Braithwaite is doing is not just photographing and creating mix media installations. He's assembling relationships that are going to last far beyond the physical arts.
For more information on Jose Braithwaite and Star Seed Whisper project
visit http://igg.me/at/starsw