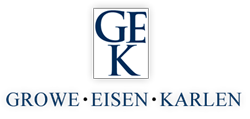 We are always looking for ways to be a better member of our wonderful community.
St. Louis, MO (PRWEB) December 03, 2013
The law firm of Growe Eisen Karlen is proud to announce that partner Richard J. Eisen has won the prestigious 2014 Champion of Kids award from Kids In The Middle. For 36 years, Kids In The Middle has provided help for children, parents and families during and after divorce through counseling, education and support. Eisen was selected because of his dedication to children in the greater St. Louis area.
"Rick Eisen has taken the leadership and excellence he provides as an attorney and shared it with the St. Louis community," said a spokesperson for Growe Eisen Karlen. "We are lucky to have an individual like Rick on our staff and we all strive to follow the example he has set."
Growe Eisen Karlen is one of the premier law firms in the St. Louis area, serving anyone looking for an employment attorney in St. Louis or a personal injury lawyer. Lawyers at the firm are also available for those looking for a Truck accident lawyer or vehicle attorneys in Saint Louis.
"We are always looking for ways to be a better member of our wonderful community," said a spokesperson for the firm. "Rick has shown us that we can serve the community in ways other than providing quality legal assistance. He is a great example of how Growe Eisen Karlen strives to keep our focus on the individual, along with the legal process."
The founding of Growe Eisen Karlen in 2009 brought together experienced trial lawyers, recognized for their passion and skill in representing clients in complex civil litigation. The firm features attorneys with a unique blend of abilities in all areas of civil litigation and trial work. The firm is widely respected for the depth of its family law practice, led by senior partners Richard Eisen and Chris Karlen, where eight lawyers devote full time to serving clients in this area.
About Richard J. Eisen:
Richard J. Eisen has tried and settled numerous complex family law cases. He frequently lectures and publishes articles in the area of family law. He is a certified divorce mediator and has been appointed by the Court as a Guardian ad Litem for children in custody disputes. He concentrates his practice in the area of family/domestic law, including dissolution of marriage, legal separation, paternity, maintenance, child support, child custody, modification matters, enforcement, and pre/post-nuptial agreements.
About Growe Eisen Karlen:
At Growe Eisen Karlen in St. Louis, Missouri, we have created a relaxed, productive environment in which you can freely discuss your case. Our clients value the comfortable setting our office provides for them. Yet, with many cases such as auto accidents or criminal cases, clients are unable to leave their homes or hospital beds to come to our office. We regularly visit clients at their locations in order to better accommodate them and address their needs.
To find out more about our services, go to http://gatewaylawyers.com today and schedule a free case analysis.