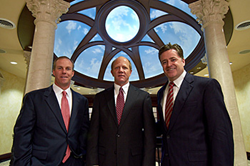 St. Louis, MO (PRWEB) July 25, 2014
Missouri car accident attorneys at The Onder Law Firm are pleased to announce free Missouri auto accident attorney consultation to persons in St. Louis and greater Missouri who were harmed in a car accident. Known nationally for their work on personal injury and death cases, these Missouri car accident attorneys are now dedicating a portion of their efforts to local injury and death cases.
St. Louis-based personal injury attorneys at The Onder Law Firm are offering a consultation with an experienced attorney without any cost or further obligation to anyone having sustained injury in a motor vehicle accident in Missouri or Illinois. The Onder Law Firm's lawyers handle serious injury and death cases throughout the United States. Often times in the case of products liability injury cases, the firm's lawyers are facing billion dollar multi-national corporations over complex medical issues. The firm's personal injury lawyers in St. Louis utilize the same skills and resources when handling Missouri and Illinois car and truck accident cases.
Unfortunately, there are far too many car accidents in the metropolitan St. Louis are that result in serious injuries and even death. While accidents are typically caused by one or more drivers, that is not always the case. Defective or improperly maintained equipment on a motor vehicle, especially commercial trucks, or poorly designed roadways can also cause serious car and truck accidents. Even when another driver's actions caused the accident, these factors can greatly exacerbate an accident, turning what might have only cased damage to the vehicles involved into injuries requiring extensive medical care. The Onder Law Firm has created a website detailing the types of car accidents and injury claims it handles, how they are different than other St. Louis car accident attorneys and information about mistakes commonly made when settling an accident injury claim with an insurance company.
The St. Louis car accident lawyers at The Onder Law Firm welcome inquiries from other law firms in regards to handling or working as co-counsel on Missouri or Illinois auto accident lawsuits.
About The Onder Law Firm
Onder, Shelton, O'Leary & Peterson, LLC is a St. Louis based personal injury law firm handling serious injury and death claims across the country. Its mission is the pursuit of justice, no matter how complex the case or strenuous the effort. Onder, Shelton, O'Leary & Peterson have represented clients throughout the United States, and other firms throughout the nation often seek its experience and expertise on complex litigation. It is a recognized leader in products liability cases such as window blind cord strangulation and pharmaceutical litigation. The Onder Law Firm offers information pertaining to St. Louis auto accident injury claims and a free attorney case review at http://www.onderlaw.com.