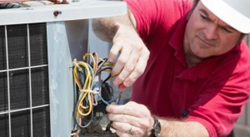 The company provides their customers with inspections and assessments as well as recommendations.
St. Louis, MO (PRWEB) May 29, 2014
After receiving their certification to service both St. Charles city and county in November of 2013, St. Louis heating and cooling company, Vitt Heating & Air Conditioning, is proud to be able to provide HVAC checkups and recommendations for even more customers this summer. The HVAC company has been in business for 60 years, providing service, maintenance, and general repair for heating and cooling systems. The recent certification to expand their service area is seen as a welcome addition to an already-successful business model.
Vice President Jeffrey Vitt says the company has a lot to offer their expanded client base, and encourages residents in the St. Charles area to have their HVAC systems inspected before the summer heat sets in. "Many times," says Vitt, "the lack of maintenance causes a wide array of problems. An HVAC unit that's 30-plus years old can cost $600 to $700 to get it operating. Once a system has reached a certain age, it may lack energy efficiency and require repairs on a frequent basis."
The company provides their customers with inspections and assessments as well as recommendations, such as when a home a St. Louis AC repair job might actually be more cost effective than a replacement. Vitt also recommends a realistic assessment of the type of refrigerant used in a particular cooling system. "Coolant used in units that are five to 30 years old may no longer meet government regulations," he says. "This makes the older coolant extremely expensive -- and hard to find."
Vitt Heating & Air Conditioning began offering models using the newer coolant back in 2003. While it was initially a larger expense for the company, the boost in efficiency it brings to the homes they service has been well worth the investment. "During the summer, the use of a newer, more energy-efficient model may cut your air conditioning costs in half," says Vitt.
Vitt Heating & Air Conditioning has been in business since 1954, providing the St. Louis community with heating and air services ever since. Always remember that it's never to early to be thinking about the next season and getting a St. Louis furnace repair done. For more information, please call 314-351-5580 or vist them online at http://vittheatingandair.com/.