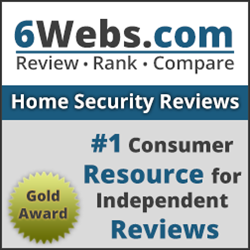 Compare the leading home security companies and their services online at 6Webs.com.
St Louis, MO (PRWEB) July 18, 2013
6Webs.com has informed thousands of buyers on what to look for when selecting a home security monitoring provider. Consumers that are searching for an alarm system can compare the features and services of the country's top security system companies online at 6Webs.com. The St Louis reviews of top alarm system companies were just recently finalized and released by 6Webs.com. Reviews of each state are completed yearly and the top alarm system providers are scored. Each and every home alarm system provider is rated on various factors including customer service, equipment and technology for example.
http://www.6webs.com/best-home-security-systems
Missouri is home to 6,010,688 consumers. According to the 2011 FBI Uniform Crime Report there are 198,882 property crimes each year. Home security is always a worry to Missouri consumers and now they have an unbiased source to help them with selecting a alarm system with monitoring services. Reliability and safety are two significant themes that were observed when conducting the Missouri home security company reviews.
6Webs.com spokesperson Tim Smythe stated, "Cellular monitoring services were quite popular among St Louis consumers because of its increased reliability over telephone line and broadband-based connections. The team at 6Webs.com have seen a big demand in cellular home security systems in 2013."
The top alarm system company in St Louis is FrontPoint Security. FrontPoint Security provides home security services throughout the United States by furnishing their customers with wireless home security equipment from GE Security. Maintaining customer service and satisfaction at the top of their priority list has made FrontPoint Security the top pick among Missouri homeowners.
http://www.6webs.com/frontpoint-security-review/
6Webs.com learned that Missouri residents were attracted to the mobile features that the leading security companies offer. Companies like FrontPoint Security and Protect America offer their customers with remote control features like text message notifications and the ability to remotely disarm the alarm system. Some Missouri residents stated they would make the most of the services that provide streaming of wireless home security cameras right to an iPhone or Android device. Missouri consumers can do a comparison of the features of the best home security companies online at:
6Webs.com - Best Home Alarm Systems
About 6Webs.com
6Webs.com is devoted to delivering consumers with the best burglar alarm system information available. Buyers can instantly compare the top home security system providers on 6Webs.com to help them buy the best security system for their family. 6Webs.com also released educational information on safety and security on their home security blog. Visit 6Webs.com for the latest information about who's popular and who's not within the home security industry.