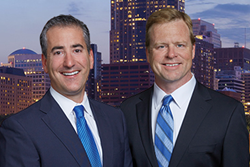 As personal injury and car accident attorneys, we have heard countless stories from our own clients whose lives were saved thanks to blood transfusions.
St. Louis, MO (PRWEB) April 30, 2015
Cantor & Burger, LLC, directly impacted up to 48 lives several weeks ago with a blood drive to benefit the American Red Cross. The event, which took place at the St. Louis, MO, law firm's office on April 15, brought in more than a dozen donors who were happy to give their time to a great cause.
From 10 a.m. to 2 p.m., the American Red Cross parked their Blood Mobile outside the law office of Cantor & Burger, LLC, which is located at 12283 Olive Blvd. During those four hours, 20 generous donors volunteered their time to give blood; just 16 were able to donate, but that means 16 pints of blood to help up to 48 different people.
Mark Cantor, partner and attorney with Cantor & Burger, explained that the cause was something that has impacted the firm's clients, so it just made sense to hold this event.
"As personal injury and car accident attorneys, we have heard countless stories from our own clients whose lives were saved thanks to blood transfusions," Cantor said. "We are always looking for ways to give back to the community, and hosting a blood drive for the American Red Cross seemed to be a perfect way to pay it forward."
Because the firm regularly deals with victims of catastrophic accidents, often those resulting in long term or even permanent injuries, Cantor and others at the firm know firsthand how crucial these donations are. "We hosted the blood drive in honor of the generous people who had previously donated the blood that ended up saving the lives of our clients, family, friends and neighbors," Cantor said.
Donor blood goes toward other causes as well, Cantor pointed out. Cancer patients, cardiac patients, premature infants, and others with medical conditions and injuries need blood transfusions each day.
Cantor & Burger got involved with the American Red Cross when they contacted the organization to set up a blood drive at their office. The firm promoted the blood drive through social media and its monthly email newsletter, and they also informed other businesses along Olive Blvd in Creve Couer of when and where the event was taking place.
To express their gratitude to donors, Cantor & Burger also provided a free catered lunch as their way of saying thanks. The day was a success, said Cantor, and it was an excellent way to bring staff and clients together for a worthy cause.
But Cantor said that the blood drive wasn't just a one-day wonder -- those four short hours also have the potential to make a lasting impact on those who got involved.
"Of the 20 people who signed up to give blood at our blood drive on April 15, 11 of them were first time donors," he said. "Everyone felt good about donating and committed to giving more blood in the future.
"We are proud that we not only had a successful blood drive," Cantor concluded, "but that we also inspired lifelong donors thanks to the positive experience the American Red Cross provided for our generous volunteers."
About Cantor & Burger, LLC
Cantor & Burger, LLC is a St. Louis-based personal injury law firm. Its dedicated and experienced team helps clients receive fair compensation for losses, injuries and harms. The law firm offers free consultations. To learn more, visit http://cantorburger.com or Contact Us.
Cantor & Burger, LLC
cantorburger.com
Info (@) cantorburger (dot) com
314-542-9999
56 Broadview, Dr.
St. Louis, MO 63105