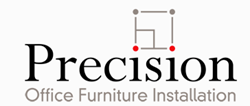 Precision Office Furniture Installation was founded in 1985 and has been in business for more than 20 years.
(PRWEB) May 08, 2014
Precision Office Furniture Installer was happy to lend its services to the U.S. Government by delivering furniture to the Army Resource Center in Weldon Springs, MO. It has done so several times in the past by helping to outfit the National Archive Center and Federal Record Center in St. Louis, MO and the Scott Air Force Base in Belleville, IL. As a result, precision was well prepared to handle the rigors and challenges of the project.
The St. Louis moving company delivered eight truckloads of products from three different companies -- Knoll, KI and Unicor -- which could have made for a logistical nightmare. Knoll specializes in sleek and modern furniture made for both interior and exterior spaces. Similarly, KI provides modern items like chairs, cabinets, desks, and other accessories. The third company, Unicor, provides both traditional and modern designs that are built with ergonomics in mind. Regardless of where the items came from, Precision employees carried all of them up stairs and were able to avoid significant problems despite the complex nature of the delivery.
At the Army Resource Center, the company installed far more than just a bunch of cubicles. Employees worked to construct more than 90 complete Knoll workstations, 30 private offices complete with seating, and three conference rooms with seating. In addition, they also installed other ancillary products meant to streamline processes and help the Army Resource Center achieve greater efficiency. Most every business thrives on eliminating wasted time, and for the Army, that is a priority.
The new installation will allow hundreds of people to enjoy a more modern facility that encourages productivity and efficiency. The individual workstations will be more comfortable while meeting areas are designed to promote communication and help teams solve problems. In order to complete the project, considerable manpower was needed to handle everything from loading trailers to putting together desks and other items.
Precision Office Furniture Installation was founded in 1985 and has been in business for more than 20 years. It is located at 4142 Union Blvd. in St. Louis. For more information, visit their website, http://precisionco.com, send an email to info(at)precisionco(dot)com, or give them a call at (314)-383-6454.
Company Name: Precision Office Furniture Installation
Phone Number:(314)-383-6454
Email Address: info(at)precisionco(dot)com
Fax Number: (314)-383-6565
Street Address: 4142 Union Blvd. St. Louis, MO 63115
Company Website: http://precisionco.com/