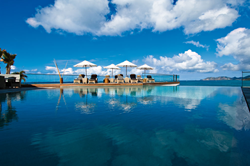 Summer is a great time to visit the Caribbean.
Providenciales, Turks and Caicos Islands (PRWEB) February 28, 2014
This is the perfect opportunity to spend summer with family and friends on the Caribbean island shared by the Dutch (Sint Maarten) and the French (Saint Martin). CARIBIQUE offers 82 luxury Saint Martin villa rentals and Sint Maarten villa rentals and 41 of them have special offers for the coming summer season 2014.
CARIBIQUE has 6 luxury Saint Martin villa rentals offering 15% discount off the low season rates for the whole of June with a reduced minimum stay requirement of only 5 nights. The combination of significant savings and reduced minimum stay requirement makes a flexible, long-weekend in the Caribbean very tempting.
In addition 35 luxurious St. Martin and St. Maarten villa rentals are offering the seventh night free for all stays between May 3 and December 14, 2014. The only exception is Thanksgiving when the special offer will not apply.
"Summer is a great time to visit the Caribbean. Everything is just a little quieter and guests may even find they have the beach entirely to themselves. The summer season rates are significantly lower than the winter season rates and this combined with free nights is exceptional value for money," said Carl McBurnie, owner of CARIBIQUE.
Visit the CARIBIQUE Villa Rentals website for details of the Saint Martin and Sint Martin villa specials for summer 2014.
About CARIBIQUE
CARIBIQUE Villa Rentals is owned and operated by CARIBIQUE Ltd., a company in the "Beautiful by Nature" Turks and Caicos Islands. Their user-friendly website offers almost 180 Caribbean villas in 17 of the most popular Caribbean destinations. For more information about listing a villa on the website or booking a Caribbean vacation, contact Carl McBurnie or visit http://www.caribiquevillarentals.com/.
We're not just unique, we're CARIBIQUE!