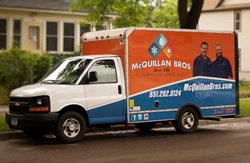 A lot of times people skip manufacturer recommended maintenance and the system doesn't get any attention until there is a problem
St Paul, MN (PRWEB) June 10, 2015
St Paul air conditioning repair, replacement and installation company, MCQ Plumbing Heating AC has been helping homeowners in The Twin Cities area for over 130 years. With air conditioning season in full swing they are now offering $25 off any HVAC service. This coupon has some restrictions and it must be mentioned at the time the appointment is booked. The coupon is applicable to repairs, maintenance and the installation of a new HVAC system.
"We know there are a lot of older air conditioning systems out there. A lot of times people skip manufacturer recommended maintenance and the system doesn't get any attention until there is a problem. The new discount coupon can used by people who have been deferring maintenance as well as by people who need a air conditioning repair in St Paul or an entire new air conditioning and heating system. We are hoping the coupon puts people in a position to try us out," says John of MCQ Plumbing Heating where the customer comes first and foremost.
MCQ Plumbing Heating AC is also an experienced Minneapolis AC repair and replacement company. With many radio dispatched trucks on the road they usually have a technician close by when it comes to The Twin Cities area including Minneapolis, St. Paul, Roseville, Maplewood and Shoreview according to John. "Our trucks are in the field ready to go. Our technicians have fully stocked trucks so they don't have to return to the supply yard between service call in most situations. We get a licensed and experienced technician onsite as quickly as possible."
MCQ Plumbing Heating AC focuses a lot of their attention to providing complete customer satisfaction when people call them for St Paul or Minneapolis air conditioning repair or any other service. This means they provide easily identifiable service trucks so their customers can be sure who they are letting into their home. It also means that they provide highly trained technicians who have passed a background check and drug test. It also means that technicians will leave the work space as clean as they found it while answering all questions potential customers have before providing them with an easy to understand total job price estimate before beginning any work.
In addition to providing all types of HVAC service MCQ Plumbing Heating AC is also a full service plumbing company. They provide service to both residential and commercial customers. Some of the most common services they perform are drain cleaning, sewer pipe repair, water heater repair and boiler repair and replacement. They can handle any types of plumbing service and no job is too big or too small. "We recently announced a sewer repair special in West St. Paul to help people who have been affected by the capital improvement program and repaving project the city is doing this summer and we want to remind people to call us if they need help," says John.
To learn more about the St Paul plumbers at MCQ Plumbing Heating AC please visit their website. People are also encouraged to watch their informative online videos and to read their press releases. People checking into hiring them can also read their positive online reviews on trusted homeowner review sites like Google and Yelp. To take advantage of the new $25 off HVAC service discount coupon please give them a call. People who need immediate service can call (651) 222-9590 from St. Paul or (612) 345-9493 from Minneapolis to have plumber dispatched immediately.
MCQ Plumbing Heating AC
1324 Grand Ave
Saint Paul, MN 55105
(651) 222-9590