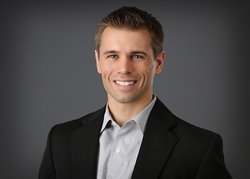 St. Paul, MN (PRWEB) December 08, 2015
Dr. Joel Fugleberg, a local St. Paul chiropractor at Lifestyle Chiropractic, has just received a Business of Excellence Award from the Dakota County Regional Chamber of Commerce.
The Chamber honors businesses that exhibit innovation, growth and leadership within the Dakota County Region. The businesses and individuals receiving these awards demonstrate a strong commitment to their industries and the Dakota County communities each and every day.
Dr. Fugleberg received the inaugural "Young Professional" Business of Excellence award at the 2015 ceremony held at Southview Country Club in Mendota Heights. The "Academy Award" themed event, complete with red carpet and photo opportunities, was emceed by KARE 11's Kim Insley and well-attended by area businesses.
Dr. Fugleberg was recognized for his strong involvement in the community. He volunteers his services at various events throughout the community and regularly donates his services and time to different community events each year.
"It's a privilege to be recognized for the work you do - especially by those in your local community. I consider it a true honor to be the recipient of this award!" states Dr. Fugleberg
At Lifestyle Chiropractic, Dr. Joel strives to create a healthier community by educating people about chiropractic and its role in achieving optimal health and inspiring families to take a more active role in the wellness process.
He has helped thousands get well through chiropractic care and regularly helps patients with many different conditions. A chiropractor, fitness enthusiast, and wellness advocate, Dr. Fugleberg lectures at various area organizations as part of his mission to help others.
Dr. Joel Fugleberg is the owner of Lifestyle Chiropractic on 821 Sibley Memorial Highway, Mendota Heights, MN 55118. He specializes in keeping families healthy for life by providing chiropractic care, massage therapy and spinal decompression therapy. He can be reached at http://www.lifestylechirocenter.com or by calling 651-406-4454.