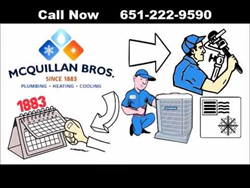 We are offering a brand new coupon for a water heater because we get a lot of calls from people who are asking for water heater repair
St Paul, MN (PRWEB) June 28, 2015
St Paul plumbers at MCQ Plumbing Heating AC have been helping people with all types of plumbing repairs for over 130 years. Their newest discount coupon is for $75 off the purchase and installation of a new water heater. The coupon can be used for hot water heater replacement or the installation of new water heater in a new location. The offer ends on 12/31/2015 and must be mentioned when scheduling the initial service call. There are a wide range of options to choose from including tankless or on demand units.
"We are offering a brand new coupon for a water heater because we get a lot of calls from people who are asking for water heater repair. Unfortunately when our St Paul plumbers get on site they have to inform the homeowner that the unit needs to be replaced because it's beyond repair," says John of MCQ Plumbing Heating AC. With this new coupon they are hoping to ease the burden homeowners are experiencing with the unexpected cost of a new water heater. "We want to put a smile on people's face by helping them save a little money."
In addition to being service plumbers MCQ Plumbing Heating AC is also an experienced St Paul sewer repair contractor. They provide basic sewer services like main line cleaning and cleanout installation as well as more complicated services like complete sewer line replacement. "We are proponents of doing a full inspection on the sewer main line to best determine the condition of the pipe. After the inspection our highly trained technicians can recommend some repair options and the homeowner can choose the one that fits best," says John. Another service they offer is hydro jetting otherwise known as water jetting.
Hydro-Jetting is the process of clearing the sewer line without using a traditional rotary rooter machine. According to the Minneapolis plumbers at MCQ Plumbing Heating AC the best way to really clean a sewer line properly is with hydro-jetting equipment. "If there are tree roots or grease balls blocking the pipe a normal rotary rooter machine will only clear the blockage temporarily because the tip of the rooter can't clear the whole line. Hydro-jetting uses a high pressure water stream to cut through all of the debris in the pipe," says John. Water jetting can cut right through tree roots, grease balls, household items and other blockage in the pipe. The only drawback is that the sewer pipe must be in good enough condition to withstand the water pressure.
In situations where a thorough inspection of the main line reveals that it can't withstand water jetting other repairs may be needed. The Minneapolis sewer repair pros at MCQ Plumbing Heating AC can fix just the parts of the pipe that are severely damaged or broken as opposed to a complete pipe replacement in some cases. John says, "If a spot repair is possible our plumbers will educate the homeowner about location of problems within the pipe and explain repair options for doing a spot repair or replacement. Of course if part of the pipe is broken it may be an indication that the rest of the pipe will weaken over time."
In addition to being experts plumbers the experts at MCQ Plumbing Heating AC are also experienced St Paul air conditioning repair and replacement contractors. They are currently offering A/C repair specials and they can get to most customers the same day. "When it comes to being comfortable, people want fast service and we understand that. So we do everything we can to dispatch one of our friendly HVAC technicians as soon as possible. We can troubleshoot common problems and make repairs but we also provide homeowners with high efficiency heating and air conditioning systems if their current system is substandard," says John. All of the plumbers and HVAC technicians from MCQ are highly trained, drug screened and background checked for the safety of their customers.
To learn more about the Minneapolis and St Paul AC repair and air conditioning contractors and plumbers at MCQ Plumbing Heating AC please visit their website. To schedule service now please call (651) 222-9590 to have an HVAC service technician or experienced plumber dispatched immediately. People should also call (651) 222-9590 to take advantage of the new plumbing discount for a new water heater.
MCQ Plumbing Heating AC
1324 Grand Ave
Saint Paul, MN 55105
(651) 222-9590