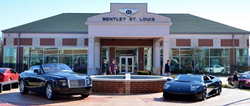 ST. LOUIS (PRWEB) March 18, 2019
It can be difficult for luxury car shoppers who are in the market for high-end exotic cars to find their dream car at nearby dealerships. St. Louis Motorcars has created a solution with a nationwide transport service that will cater to potential owners no matter where they may live.
St. Louis Motorcars, located on Arnage Boulevard in St. Louis, is a factory-authorized dealership for several high-end luxury automotive brands – Aston Martin, Rolls-Royce, Bentley, Lotus, Lamborghini and Bugatti. An impressive inventory of exotic luxury cars is complemented by an extensive selection of Collectible Exotics and pre-owned luxury vehicles that include Ferrari, Mercedes-Benz, Porsche, McClaren and more.
To cater to potential owners, the dealership provides nationwide transport and delivery that can be factored into the price of the vehicle. Individuals who find their dream car online at St. Louis Motorcars can make a purchase online or over the phone and the St. Louis Motorcars team will transport the vehicle to the new owner's home. Vehicles are transported in enclosed containers that are hauled by experienced drivers to ensure that they arrive safely, securely and in flawless condition. Interested car buyers can contact a sales manager for more detailed information.
In addition to an incredible smorgasbord of automotive masterpieces and nationwide transport, St. Louis Motorcars provides drivers with lease specials that can be applied to select new models, discounted prices on pre-owned luxury vehicles, Aston Martin lease offers and service specials. Current Aston Martin lease specials include a 36-month lease on a 2019 Aston Martin Vantage with zero money down and just $1,499 per month.
Luxury car shoppers located in the St. Louis area who would like to learn more about the exotic luxury vehicles available at St. Louis Motorcars and the dealership's nationwide delivery service can visit the dealership online at http://www.stl.cars. Individuals who prefer a more personal interaction can contact a dealership representative directly by calling 636-489-3788.