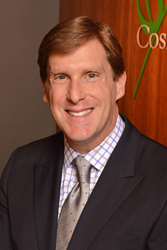 St. Louis, Missouri (PRWEB) September 27, 2016
Dr. Charles Nathan of St. Louis Cosmetic Surgery (http://www.stlcosmeticsurgery.com) recently became a Fellow of the prestigious American College of Surgeons (ACS), joining the 3 other surgeons at the practice who have achieved that designation.
"I am proud to have earned membership in an organization that is committed to the highest standards of surgical skills and ethical conduct," Dr. Nathan says. "That is true of both the ACS and of St. Louis Cosmetic Surgery."
According to the ACS website, https://www.facs.org/, "Fellows are board-certified surgeons whose education, training, professional qualifications, surgical competence, and ethical conduct are reviewed and consistent with the high standards of the ACS."
The "FACS" designation indicates to patients and other physicians that a surgeon has undergone additional scrutiny by his or her peers that exceeds board certification.
"I think it helps patients who are trying to choose qualified plastic surgeons," says Dr. Nathan, who joined St. Louis Cosmetic Surgery in 2014. "Knowing a physician is an American College of Surgeons Fellow tells patients that a surgeon has passed a comprehensive evaluation of their surgical training and ethical conduct."
Dr. Nathan is a St. Louis native who earned his medical degree from the University of Oklahoma College of Medicine before completing 5 years of general surgery training at The Ochsner Clinic in New Orleans. His plastic surgery training at the Lahey Clinic in Boston included rotations at the prestigious Brigham and Women's Hospital and Boston Children's Hospital.
Dr. Nathan's colleagues at St. Louis Cosmetic Surgery include Dr. William H. Huffaker, Dr. Herluf G. Lund, Jr., and Dr. Christian A. Prada. They are all board-certified plastic surgeons in addition to being ACS Fellows.
Of his first 2 years at the practice, he says, "Change is always good. I feel rejuvenated. Additionally, I really enjoy working with the St. Louis University plastic surgery residents at our office."
Dr. Nathan envisions becoming more involved with surgical education and promoting board certification among his future goals. He also looks forward to the continued expansion of his surgical repertoire, which now includes specialized procedures such as body contouring after massive weight loss, and collaboration with the St. Louis Cosmetic Surgery team.
"One of the things I most enjoy about working at this practice is sharing ideas with partners who have experience that differs from mine," he says. "That type of collaboration helps with difficult cases and improves the outcomes, which is really the ultimate goal."
###
St. Louis Cosmetic Surgery (http://www.stlcosmeticsurgery.com/) features 4 board-certified plastic surgeons with decades of combined experience. Each surgeon continues to develop his skills and expand his knowledge about the most advanced cosmetic procedures available. Patients receive personal attention from the knowledgeable staff and can expect the highest level of care through every step of the treatment process. The extensive training and highly developed skills of the surgeons and staff add up to outstanding, natural-looking results achieved through a wide range of surgical and non-surgical procedures.