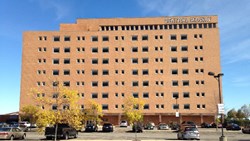 We love to be able to offer our tenants the conveniences of high-end St. Paul office space and medical space at affordable prices.
St. Paul, MN (PRWEB) February 11, 2014
Conveniently located Central Midway is situated at 393 N. Dunlap St., near the intersection of Lexington Avenue and Interstate 94 in St. Paul. It's also close to University Avenue and just a block away from the Central Corridor light rail transit (LRT) line which is 98% complete and slated to open to the public in 2014. "This building is set in the perfect location for anyone needing St. Paul office space," says Jay Mutschler, owner of JGM Properties. The property is in the Midway area of St. Paul and adjacent to populated retail centers including: Super Target, Midway Marketplace and the Midway Shopping Center.
Built in 1967 this 9 story 101,555 square foot building was once home to many medical and dental professionals. Serving as a hub of activity, it was the perfect location for the medical fields. However, due to smaller floor plans, the building began to prove to be functionally obsolescent. That is where JGM Properties comes in, with its own on-staff maintenance crew, JGM Properties has the unique ability to customize and combine the spaces to fit any St. Paul office space users' needs (and small to medium size medical users as well). Quite literally, they have the crew and expertise to breathe new life into this well maintained and mechanically solid building.
The exterior will be receiving a face lift as well. With future plans to add windows throughout the building, Central Midway will be light and bright. The Central Midway office building offers a great location, free hi-speed wireless internet, underground parking, onsite vending and cafeteria lounge, conference rooms and custom space designs and build-outs. "We love to be able to offer our tenants the conveniences of high-end St. Paul office space and medical space at affordable prices," says Jay Mutschler.
The buildings also offer prospective tenants many choices in size and design. Starting with single person suites and going up to office space with several thousand square feet, whatever your office space needs are the Central Midway building has it available. The medical space units range in size from 500-10,000 square feet.
For more information on St. Paul medical space and office space at Central Midway, contact:
Eli Russell
612-290-1037
http://www.jgmproperties.com/property/central-midway/
JGM Properties is excited about the newly purchased Central Midway building. With the increasing need for quality and affordable St. Paul office space and medical space, this building is a great choice that offers its tenants wonderful amenities and a great location.
JGM Properties, Inc. is commercial management company founded in 1980 and is currently located in Bloomington, MN. JGM's primary focus has been on office space in St. Paul / Minneapolis and the surrounding suburbs.