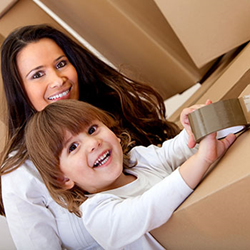 "Sometimes moving is a good thing. A new job, neighborhood, or school and meeting new people and finding friends can be fun and exciting. But moving can also be fraught with tensions." ~ Journal of the American Academy of Child & Adolescent Psychiatry
Twin Cities Minneapolis, Minnesota (PRWEB) February 25, 2014
Children who are made to feel secure in a stable home may prevent and mitigate problems associated with moving from house to house, according to the latest Journal of the American Academy of Child & Adolescent Psychiatry. Its one of the first studies to look at how moving during key developmental periods can affect children over time, adding insights to the University of Minnesota's study showing that incorporating children in household tasks benefits them later on.
"Moving can be a great experience for your children. Both daily and moving tasks will show you child that you believe in their competence. Keep it happy and rewarding by taking beaks for fun, snacks and sharing excitement about their personal spaces in your next home," says Jenna Thuening, owner of Home Destination.
"Disruption of family routines and sudden loss of familiar support structures, and these tensions can be compounded by factors potentially related to the move itself," according to the Journal study results. Parents are urged to encourage their children's physical activity and get them involved in life at home, including the added work of moving to a new home. Also, communicate with them if moving to a new neighborhood; parents can show they are considering their children's need for a safe route to walk or take bike rides to school. Great examples of household chores for children when moving are: a number of trips up and down the stairs carrying lighter items to storage, sweeping the garage, or sorting toys they have out grown to donate can all generate healthy activity too.
Research conducted at the U of M by Marty Rossmann, emeritus associate professor of family education, reported in May 2013, states that children who are given responsibilities in household tasks at an early age can have positive benefits later in life. "By involving children in tasks, parents teach their children a sense of responsibility, competence, self reliance, and self-worth that stays with them throughout their lives", after working at the Minneapolis College of Education and Human Development at the University of Minneapolis.
"How the tasks are presented also influences children's abilities to become well-adjusted adults. The tasks should not be too overwhelming, parents should present the tasks in a way that fits the child's preferred learning style, and children should be involved in determining the tasks they will complete," states Rossmann. Adults who are overindulged as children and aren't taught to do household chores fell the pain later, often facing a lack of skills and low self-esteem. Marty Rossmann's research offers independent and important information on the role of chores in creating happier homes and adult lives.
A February 19, 2014 article addresses the topic in Live Science titled Switching Schools Linked with Mental Health Problems in Kids quotes Dr. Swaran Singh, a mental health researcher at the Warwick Medical School in England. He says, "It's possible that constantly being the new kid makes children feel vulnerable." The study he co-authored understands the positives of household moves; it suggest that higher levels of engagement from the parents during a move protects children from certain risks when faced with transferring schools too often.
"When purchasing a Twin Cities home, parents find it great location for daily activities, as parks, playgrounds and community centers where they can play and exercise abound. Parenting Magazine ranks Minneapolis as a top city for families to buy and home and raise children. Reward them with fun after household chores are done," adds Thuening. "The Twin Cities offers a wide range youth sports activities such as, dance or a fitness program, swim teams, or a running club; which are that are exciting and challenging enough to keep them growing."
For families moving and buying a Minneapolis home, Home Destination is passionate to see family's have a great experience buying and moving to a new home. Call 612-396-7832.