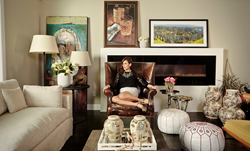 BE INSPIRED: New blog Rustic & Rich a fresh space with inspiration for consumers, DIYers and lovers of all things design.
Los Angeles, CA (PRWEB) September 09, 2014
Standout Los Angeles-based interior designer Stacey Cohen, well known for competing as a finalist on HGTV's Design Star, today announced the launch of a new lifestyle blog 'Rustic & Rich,' to feature a mix of design, dining, and lifestyle content.
With the new Rustic & Rich blog, Cohen will share weekly commentary, insights, inspirations, how-to and trend articles and 'insider design tips' on everything home, design, dining, and lifestyle.
Well-known for her fresh approach to luxury interior design and focus on client experience, Cohen's design aesthetic that balances traditional design principles with vintage, modern, and unexpected elements has fast distinguished her as a top influencer in the interior design industry.
Cohen says Rustic & Rich, set to launch September 16, represents a brand expansion and effort to tap into the Los Angeles market, where her boutique firm Stacey Cohen Interiors is based.
"With the explosion of social spaces and online content there's a real opportunity for brands to create a space to truly engage with consumers, DIYers and lovers of all things design," Cohen said. "For SCi, Rustic & Rich will be that space—an exciting new venue and community where we can connect with current clients and fans and also reach a larger audience."
Cohen also recently released a new EBook, "Online Office: A Business Companion for Creative Entrepreneurs," which offers how-tos for startups on: establishing business processes, growing clientele, marketing and building strong vendor teams.
Stacey Cohen Interiors is a full-service boutique design firm offering: in-home consultations, lighting plans, landscape design, painting consultations, architectural drawings, permits, general contracting and product sourcing and purchasing.
For more information on the new Rustic & Rich blog or to schedule a complimentary new client phone consultation, contact info(at)staceycoheninteriors(dot)com.
Also, join the Stacey Cohen Interiors social media communities on Pinterest at http://www.pinterest.com/scinteriors/ and Twitter @SCInteriors.
MEDIA AVAILABILITY:
Stacey Cohen is an experienced media contributor that has been featured on HGTV, ABC, NBC, FOX, US Weekly, People, In Touch Weekly and more. She is available for commentary and appearances on interior design trends and lifestyle topics.
CONTACT:
info(at)staceycoheninteriors(dot)com
310-903-7168
About Stacey Cohen Interiors:
Stacey Cohen is a Los Angeles-based interior architect, journalist, designer and principal of Stacey Cohen Interiors, SCi, with clients in Chicago, New York, Detroit and LA.
After fifteen years of working and living in these cities, Stacey merged her metropolitan influences into a unique style that lies between town and country, opulence and ease. Actively influencing current design trends and regularly joining the conversation, Stacey has appeared on television, in print, on radio and the Internet. In 2010, Stacey competed as a finalist on Mark Burnett's production of HGTV Design Star.
Before launching her professional career, Stacey studied Interior Architecture at Parson's School of Design and Architecture at University of Illinois, Chicago. She received her Bachelor's Degree in Magazine Journalism from Columbia College Chicago. In 2009, Stacey earned LEED AP accreditation. In 2011, Stacey was accepted and completed the Accelerator program for Entrepreneurs Organization (EO). The intensive yearlong training program helped shape the current success of SCi. An artist and entrepreneur, Stacey has combined both loves and disciplines into her e-book, "Online Office".