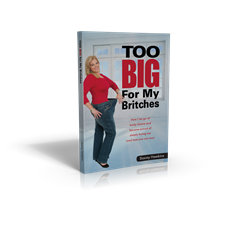 Body shame kills from the inside out
Wallkill, New York (PRWEB) April 11, 2016
Stacey Hawkins is proud to announce the release of her long awaited book "Too Big For My Britches". This powerful and emotional story addresses the quest for body perfection and how she let go of body shame and simply became herself. From the early age of seven Stacey encountered deep shame which was associated with her weight. From that point forward the battle continued as she tried desperately to fit in, be accepted and somehow control her body. After decades of struggles, she finally found the path to happiness by embracing her imperfections.
Too Big For My Britches is a brave and transparent journey in which so many can identify with but remain in a prison of fear, insecurity and self-hate. The reader will get to know Stacey as a successful and driven CEO, wife and mother who dreaded looking in the mirror, and yet continued to live in pain as she frequently and secretly encountered failures and disappointments involving overeating, depression, alcohol abuse, divorce and more. Her amazing discovery of her self-worth and purpose brings this book to her existence as hope and happiness evolve through a refusal to live a miserable and painful life. Throughout this victorious journey she also addresses her love/hate relationship with food.
"I had reached a point in my life when I wanted to start feeling worthy again. One year after I began my journey to find me, I knew my purpose lay in my mission to help others feel whole, healthy, and worthy. My sincere hope is that others will embrace this story as a road map to freedom and happiness. Body shame kills from the inside out and in this book, my story looks it in the eye and confidently states ENOUGH! " says Stacey Hawkins.
The book is now available on Amazon.com and the full line of Stacey Hawkins products can be found at StaceyHawkinsShop.com
About Stacey Hawkins
Stacey Hawkins is an author, speaker, everyday single mom, and international entrepreneur who has taken her mission and product line of easy-to-use spice blends around the globe. She has published five cookbooks, is a Culinary Institute of America trained chef, and is recognized by the American Culinary Federation as a Certified Culinarian. She lives in the Hudson Valley area of New York with her children.
For more information about Stacey Hawkins including bookings or interviews please visit StaceyHawkins.com.