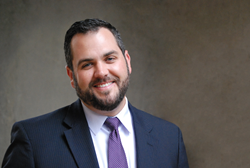 "I could not be more excited about the opportunity to join STACK. Providing value for customers with a truly disruptive technology is really invigorating."
CINCINNATI, OH (PRWEB) July 19, 2017
STACK Construction Technologies is pleased to announce the addition of Jeff Yund to its leadership team. As Senior Vice President of Sales at STACK, Jeff will be responsible for customer development and support including overseeing new client sales, training, implementation and ongoing customer service.
A dedicated team leader, Jeff has held Sales Management positions serving a variety of industries with responsibility for growing and scaling sales and customer support teams. Jeff prides himself on developing the people and processes necessary to achieve world-class customer service programs resulting in exponential organizational growth. Prior to joining STACK Construction Technologies, Jeff served as Vice President of Operations for ProLink Healthcare.
"I could not be more excited about the opportunity to join the team here at STACK," said Yund. "Having spent the last 5+ years building sales and service teams in a commoditized industry, to find a company like STACK - where providing value for customers is coupled with a truly disruptive technology - is really invigorating."
"After meeting the leadership, exploring the product and spending time with the current team, I know that STACK is ready to help more clients win more profitable work by saving significant time in their takeoff and estimation processes. Phil, Justin and the development team have honestly built a game-changing platform and I'm really looking forward to getting STACK in the hands of GCs and Subcontractors everywhere."
Away from the office, Jeff serves on the Board of Directors for the Great Parks Foundation in Hamilton County and enjoys playing golf, softball and other outdoor activities with his wife, Chrissy, and son, Nolan. Jeff received his B.A. in Public Administration from Miami University, Ohio.
###
About STACK Construction Technologies:
STACK Construction Technologies provides the first and only truly cloud-based takeoff and estimating software for professional construction contractors. Through a sophisticated, yet easy-to-use SaaS platform, STACK is transforming and streamlining the bid process for contractors of all sizes, ultimately helping them to win more profitable work. Using the latest in web technology, STACK empowers users to quickly and accurately measure digital plans, collaborate with team members, customize materials and pricing and finalize project estimates. STACK integrations aim to infuse users with greater efficiency and estimating accuracy than ever before while also improving access to the real-time project data needed for continuous growth. Visit http://www.stackct.com to learn more.