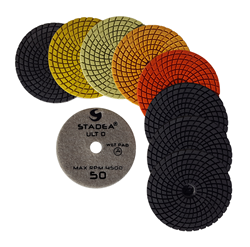 Stadea Stone Granite Quartz Marble Concrete Countertop Floor Fabrication Polishing Cutting Restoration Diamond Tools. Contact info@stadeatools.com for Reselling Stadea Products.
Santa Clara CA (PRWEB) November 21, 2016
Stadea tools - Stadeatools.com is pleased to announce the company's successful participation at the recently concluded BuildExpo Tradeshow. A rapidly growing brand offering a comprehensive range of diamond tools, Stadea tools is known for their superior quality, durability, and competitive price. Some of the most sought after products include diamond polishing pads, floor polishing pads, router bits, profile wheels, hole saw core bit and much more for granite quartz concrete cutting polishing grinding restoration and fabrication.
The BuildExpo is dedicated for promoting the growth of the different players in the construction industry across United States. The event functions as a face-to-face forum intended to connect the manufacturers, suppliers, buyers, and service providers. This popular construction industry trade show is no cost to attend, and allows the attendees to share vital information, build new business relationships, network with peers in the same profession, receive high-quality training/educational support, and purchase innovative products and services.
Stadea tools booth at the tradeshow received a lot of attention from stone fabricators, glass stone artisans, concrete contractors, floor restoration professionals being the only company offering diamond tools needed for commercial and home construction. As an special offer for this event, Stadea authorized online retailer Shop N Save Diamond Tools offered upto 50% discount on Stadea flagship products granite polishing kit, diamond polishing pads, router bits, profile wheels, concrete wet polisher, diamond cup wheels and many others. Their booth generated interest among the attendees, particularly the general contractors, floor contractors, local home builders, and stone fabricators. During the tradeshow, multiple local retailers have applied for Stadea distribution and resell. The company is currently expanding their distribution network across the country, and all interested retailers can contact at info(at)stadeatools.com.
Stadea tools presence in bay area will ensure easy availability of niche diamond tooling for stone quartz granite fabricators artisans and floor contractors. Now, all these tools can be purchased locally at a very competitive pricing, thanks to Stadea tools' authorized retailer Shop N Save Diamond Tools online retail store Shopnsavemart.com. Orders can be placed online as well as over the phone. Some other key benefits include same day pick-up, zero delivery cost, preferred pricing for business, qualified zero cost overnight shipping.
Highlighting the importance of the company's participation at the Build expo, the president of Stadea Tools Sumit K Suman stated, "The prime objective is to connect to local businesses. Availability of niche diamond tools in the local market will help local builders, concrete contractors and stone fabricators to procure the diamond tools faster. As they can buy directly without any middleman from Stadea authorized online retailer ShopNSaveMart,Com, the saving is huge. We are part of local business, and doing our best to extend the saving to local businesses in the bay area".
About Stadea Tools: Stadea is a rapidly growing brand known for its premium quality diamond tools for stone fabrication, manufacturing, cutting, grinding, polishing such as diamond polishing pads, Hole saw core bit, floor polishing pads, router bit profile wheels and many more. Stadea's superior quality, durability, and competitive price brings in great value products as it helps fabricators and manufactures reduce their operation cost producing beautiful, glossy and superior quality finish with faster turnaround time.