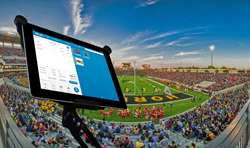 I can just check all that [inventory management] from my computer or smartphone at any time, even as the game is in progress.
San Francisco, Calif. (PRWEB) September 23, 2013
Revel Systems (http://revelsystems.com), the leader in iPad point-of-sale (POS) solutions for restaurant, grocery and retail business establishments, today announced its first large-scale sports install for the Alabama State University (ASU) Hornets. The new state-of-the-art football ASU stadium opened during the first game of the 2013 football season on August 31 and is equipped with Revel's iPad POS stations at all concession locations to provide lightning fast concession service to every fan during the football season.
"Revel Systems' iPad POS runs so much faster than the registers we were using before," said Gourmet Services' executive vice president, Alfred Baker. "In just 30 minutes we had all of our staff trained on the POS. Best of all, we are saving a minimum of five hours a week on inventory. For example, we stocked 10,000 bottles for the game and only sold 3,000. Before Revel, we would have to count the remaining stock in each stand in order to place the order for the next game. Now I can just check all that from my computer or smartphone at any time, even as the game is in progress. Managing reports for 30 terminals was very time intensive, and with Revel it's a breeze."
During ASU's first home game of the 2013 season, more than 20,000 fans stormed the new ASU stadium, located in the heart of the ASU campus. Gourmet Services, who is utilizing Revel's iPad POS system at the stadium, rang up a record 5,721 transactions in a few hours.
In order to service a sports stadium, Revel has reimagined how a point-of-sale should perform for major sporting events. Since the majority of sales happen within a few minutes between gameplay periods, Revel has created its stadium POS system to be fast and redundant in every way possible way, including a streamlined order screen that has been proven to operate an average of 14 percent faster than traditional POS systems. These specifications save a few seconds per customer transaction, which adds up to hundreds of dollars in revenue over the course of a night. Revel's terminals also transmit real time data to a cloud-based analytics platform that gives owners' powerful business reports and inventory numbers to help prepare for the next event. In addition to best-of-breed hardware of Revel's POS (i.e. card swipes, cash drawers, etc.), managers are also able to check the performance of all locations from a smartphone in real time.
Revel Systems has also created the only "offline" mode iPad POS on the market allowing vendors to continue with transactions regardless of Internet connectivity. This preparation paid off during the first game of the season when one side of the ASU football stadium lost power for over an hour due to mechanical issues. While most devices in the stadium ceased to operate, the Revel iPad POS was able to take cash and credit card transactions as normal.
"Revel's stadium iPad point-of-sale solution was created to combat any problems that might arise in a stadium environment," said Lisa Falzone, co-founder and CEO of Revel Systems. "During last year's 'Big Game' between the Baltimore Ravens & San Francisco 49ers, the stadium experienced a 30-minute blackout that shut down the entire operation. Fans had nothing to do except wait for the power to come back on, costing concessions a lot of money since the POS systems were also offline. The technology behind Revel Systems allows the POS to keep on going, even if the game stops."
Faster service, robust reporting and offline mode are several of the features that make Revel a great fit for sports arenas. As many stadiums are looking into options like pre-ordering beverages from a fan's seat to cut down on lines, connectivity and mobility will continue to change the way stadiums do business.
"We predict that the speed of iPad-based point-of-sale systems will start to disrupt the way concessions are being run in stadiums," added Falzone. "And Revel is the first to kick things off."
About Revel Systems
Revel Systems iPad POS was founded in 2010 in San Francisco, CA with the goal of changing the point-of-sale market. Founders Lisa Falzone and Chris Ciabarra developed a quick, intuitive and secure iOS-based point-of-sale system by combining cloud-based technology and the mobility of the iPad. Revel Systems software offers a feature-rich POS solution for restaurant, retail and grocery establishments with integrated payroll, inventory tracking, customer relationship management and more. With the introduction of the Revel Marketplace, Revel iPad POS users can now integrate directly into third-party enhancements, including mobile payments, online ordering, gift or reward cards and advanced financial software suites. For more information on the future of point of sale, please visit http://revelsystems.com.